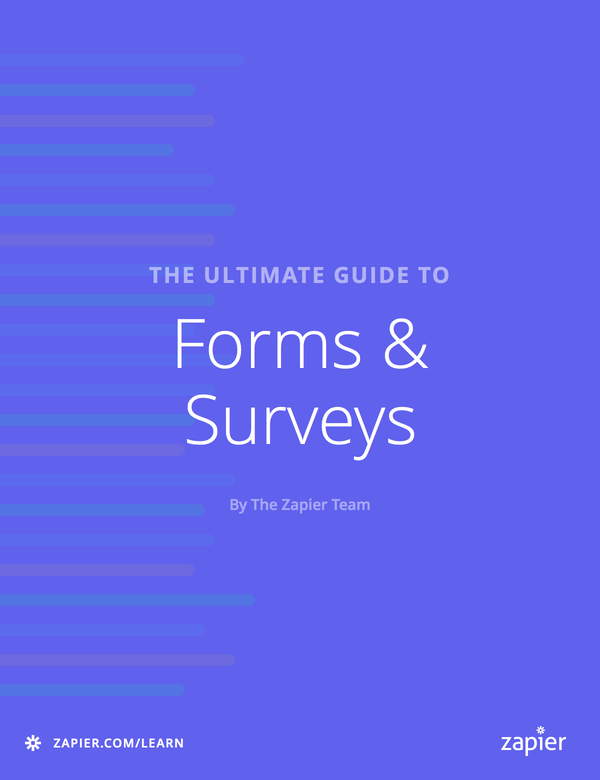 Forms and surveys are everywhere. You fill out census and product surveys every so often, carefully add your tax info to your tax forms every year, and seemingly fill out online signup forms a million times a day. You can't avoid them.
And then, if your business needs to collect any type of data—feedback, payment info, preferences, and so much more—then you need to make your own forms and surveys.
Which app should you choose for building them, and do you need a form or a survey anyhow? And how can you make sure your forms aren't as annoying as tax forms and those endless lists of questions at the doctor's office?
We've got the book for you: The Ultimate Guide to Forms and Surveys. The latest book in Zapier's Learn library, it'll take you through the differences between forms, polls, and surveys; show you the best apps to build any type of form or survey you need; give you pointers on how to make a great form or survey; and show you how to analyze and chart your survey data. It's what your statistics class should have taught you.
It's free, too. You can read it online or download a copy from the Zapier Learning Center, or download it straight to your devices from the Kindle Store or iBooks.
It might not be absolutely everything possible to write about forms and surveys, but it's more than enough to help you be confident in making great forms and surveys. And that's what's really important.
Happy form making!