Access Your Windows System Tray From Your Keyboard
Have you ever wanted to quickly access an app in your Windows system tray but didn't want to grab your mouse? Here's how you can use anything in your system tray directly from your keyboard.
There are keyboard shortcuts for almost anything you want to do on your computer. Most of use know the shortcuts for copy, paste, and other common tasks, but there's tons of useful ones that are slightly less known. Recently I was wanting a way to quickly access apps in my system tray directly from my keyboard. Low and behold, there is an easy shortcut to access your system tray from the keyboard. Here it is:
Simply press Win + B on your keyboard (the Windows key and B at the same time) to select your system tray.
Please Note: This trick only works in newer editions of Windows, including Windows Vista and 7, so it won't work in Windows XP.
Here's how it works. On Windows 7, I pressed Win + B, and it automatically selected the Show hidden icons button in the system tray.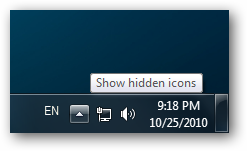 Press enter to see your hidden icons. Then, move between your tray icons with your up and down arrows. When you've selected the icon for the app you want to open, just press the Enter key on your keyboard.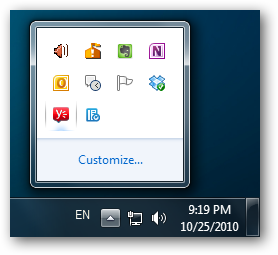 Pressing Enter on a system item, such as the Network icon, will open the preview window just like it would when you left-click it normally.
Or, to see the options for an item like you'd usually see by right-clicking, press the menu button on your keyboard (usually located beside the right Ctrl button, or press Shift + F10.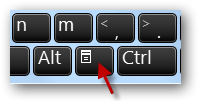 This works with the Windows tray elements such as the expand button and clock as well. Here we've pressed Win + B, then pressed the menu button to get the system tray menu, all without leaving the keyboard. Just press the up and down arrows to access the various options, and press Enter to select the highlighted option.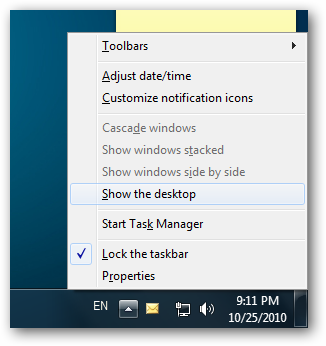 And, as mentioned before, it works in Windows Vista as well. Here, though, it'll just expand your tray since Vista doesn't include the nice hidden icons popup.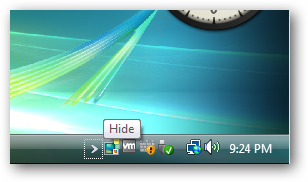 Keyboard shortcuts are a great way to make your tech life simpler, and there's tons of useful keyboard shortcuts in Windows 7. This shortcut is a welcome addition to our keyboard shortcut arsenal, and I regularly use it to view the time in other time zones or view my to-dos in GeeTeeDee without leaving the keyboard.
Thoughts? @reply me on Twitter.