WordPress for iPad, Much Improved
If you're serious about blogging, you'll likely end up writing posts from almost anywhere. I've personally published posts from hospital waiting rooms, a home improvement store, numerous coffee shops and restaurants, and from the back of the car while traveling down deserted roads in the middle of nowhere (thanks to ubiquitous EDGE). Today, WordPress for iOS is a big part of that as I now use my iPad almost as much as my computer. The WordPress iPad app has traditionally been fairly frustrating to use, but today the WordPress for iOS team released the new 2.7 version of the app that fixes many of the problems and makes it much nicer to use, especially on iPad.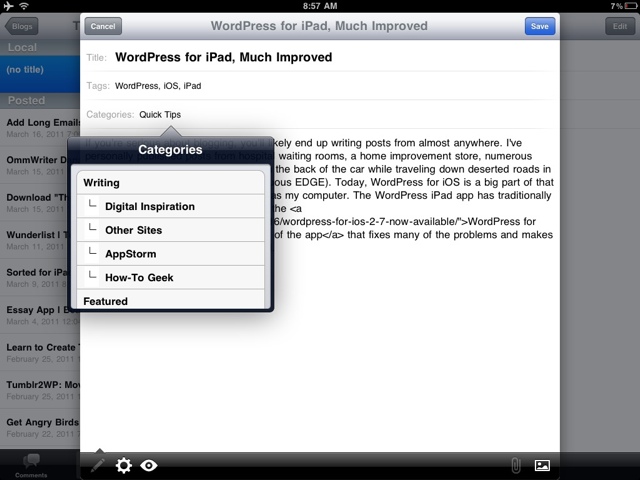 The new WordPress for iOS uses Core Data to store your post info, and seems to be much more stable. Then, the post editor is fully revamped on iPad as you can see in the shot above. Now, when you start a new post, an editor pane will open above the app, much like the Mail app on iPad. Add categories and more with native selector panes, and even upload images right from the editor without switching back and forth between different screens. New pictures are automatically added to the end of your post without any extra taps, either. For this post, I took screenshots, rotated and resized them with OneEdit, then uploaded them directly with the new WordPress for iPad.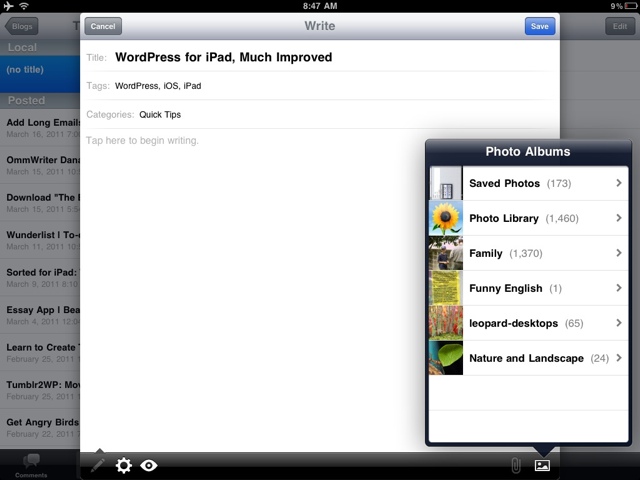 Ready to schedule your post? You can still schedule your post or upload it as a draft. This has been changed slightly in the latest version, and now you'll need to tap the gear button on the bottom of the editor to change the publish settings. This isn's a problem though, as now it's much easier to schedule posts as you want with the native menus. Plus, uploading draft posts still works great!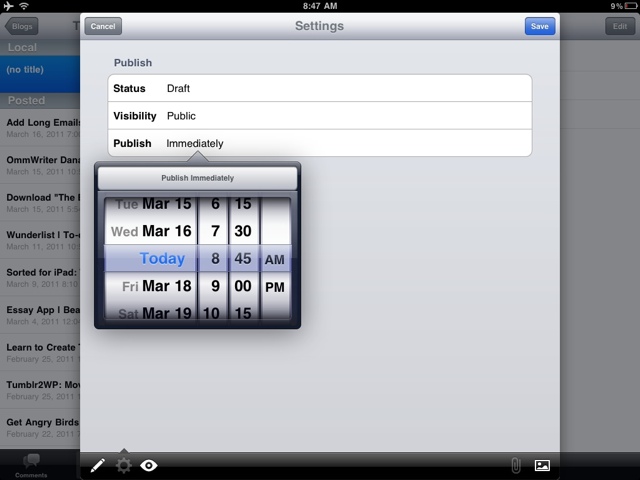 As before, you can edit existing posts and pages from WordPress for iPad, as well as manage comments on all of your sites. This works the same as before, but everything feels much faster and more stable in the new version. WordPress for iOS is still not perfect; I'd love to see either a WYSIWYG editor or an extended code editing keyboard, as right now, adding links or HTML formatting to posts is very frustrating. Also, I'd love to see support for the new WordPress post formats, as well as direct integration with WordPress.com Stats, VaultPress, and more. But, the new changes are encouraging, and they show that the Automattic team isn't wasting time in trying to get their apps improved. The changes in this version set the stage for more features in future versions, and it finally works good enough that I'll definitely be using it more. If you're using WordPress on your iOS device, make sure to update or download WordPress for iOS today!
Download WordPress for iOS (free, universal app)
Thoughts? @reply me on Twitter.