Turn iPad into a Perfect Writing Machine with iA Writer
Sometimes, the simplest tool can be the best for a job. iA Writer is an elegant text editor for iPad that proves this. With a monospaced font and no configurable options, it'd seem like it wouldn't be the most useful app. The rave reviews it's received from writers, bloggers, and more would make you think otherwise. It turns out, iA Writer's developers paid attention to all the things that make writing fun and focused, and left out everything else. We're going to dive in and see what iA Writer offers, and whether it truly does make writing easier. Best of all, iA Writer is on sale for just $0.99 today only (Edit: The original sale is over, but it's still on an extended sale for $1.99 until a desktop version of iA Writer is released!), so it's a great chance to check it out.
Simple, Redefined
When you first launch iA Writer, you'll see a document open describing how the app works and the inspiration behind it. The app includes a very clean interface with several nice touches. On the top right, you'll see a timer with an estimate of how long it would take to read the document, while underneath it you'll see a word count. Swipe up or down to scroll as normal, but if you swipe on the far sides of the document, it won't scroll. This makes it easier to read without accidentally losing your place.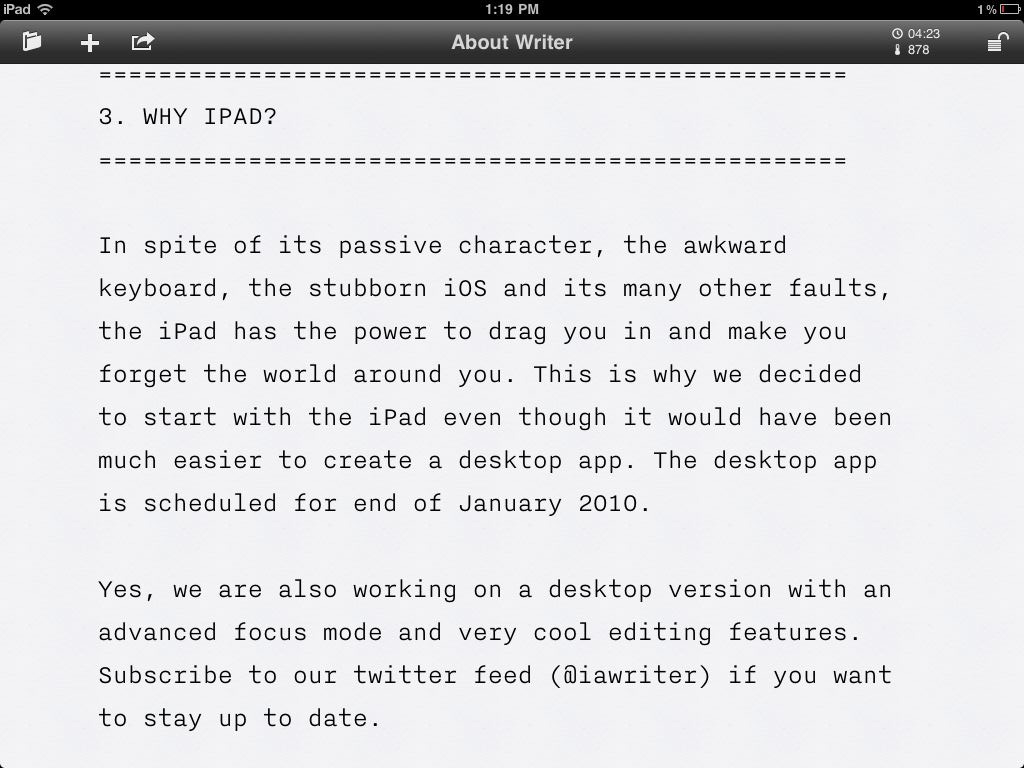 Tap anywhere in the text to start editing. You'll immediately notice that the keyboard includes an extra row of keys, each of which are a pleasant addition to the iOS keyboard. The |word buttons take you to the beginning or end of the next or last word, respectively, while the arrow keys let you switch to the previous or next character as you'd expect. Sure, you could just tap on the screen to change where you are, but the buttons make it much quicker and keep you focused on your writing. The extra key row also includes other common symbols that are slow to find on the iOS keyboard, and once you're used to it, you'll likely find that it makes it quicker for you to write.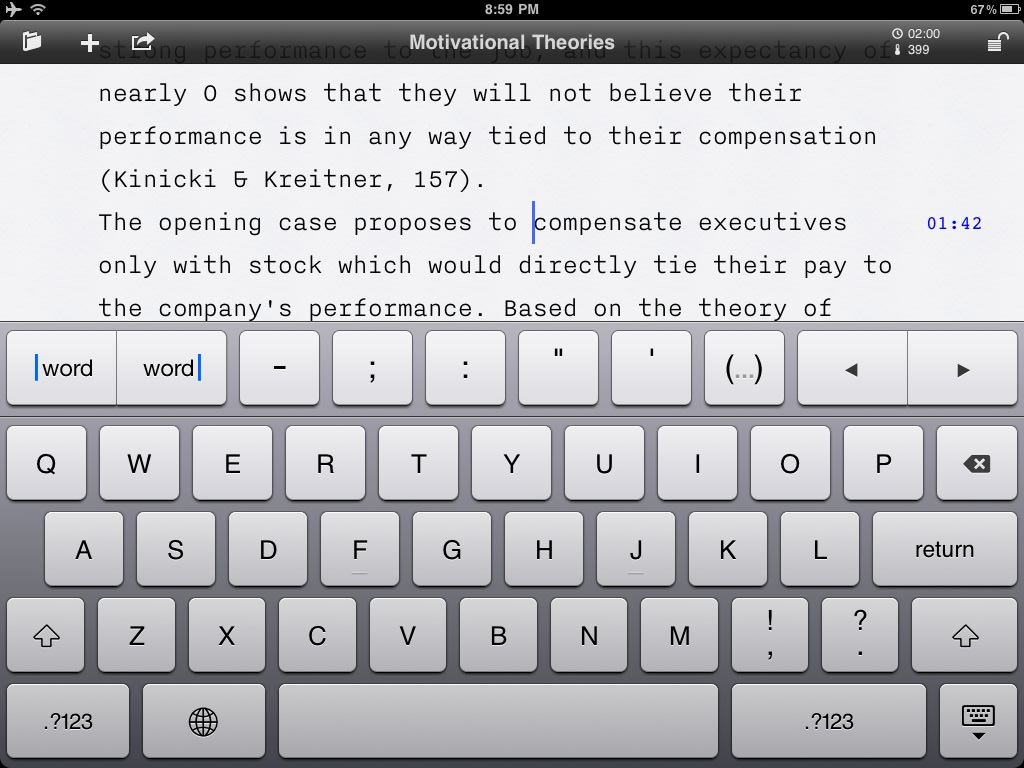 Best of all, iA Writer includes a focus mode that forces you to focus on your text and nothing else. Tap the padlock icon in the corner to activate it, and your toolbars will disappear, leaving you with your text and the keyboard. The text other than the three lines near the one you're editing will be greyed out, and autocorrect and spelling check are disabled as well. You can't even drag the text to scroll, though you can go back with the arrow buttons on the keyboard.
When you really want to be productive, though, and don't want anything to distract you, it's surprising how powerful the focus mode can be. It turns your über-modern slate of metal and glass into a 21st century typewriter. For many things, that's not actually a bad thing! Distractions can break your train of thought too easily, so the focus mode forces you to concentrate and really get your writing done.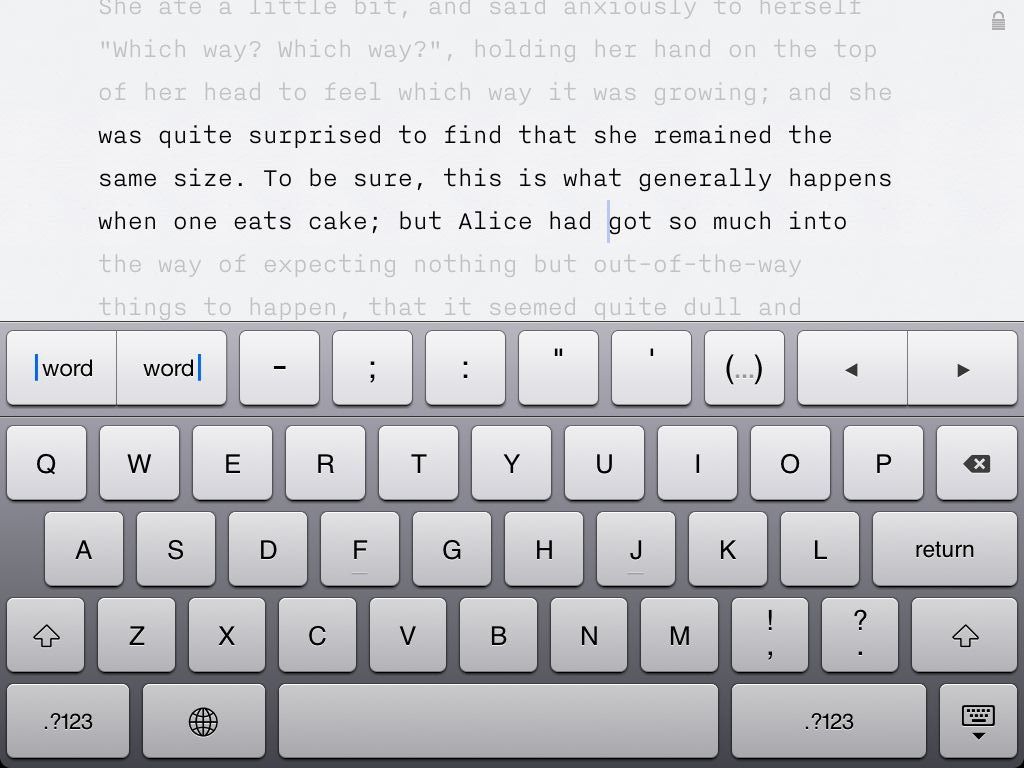 Files and Syncing
iA Writer doesn't limit you to one file, though. From the top right corner, you can create a new document from the plus button, or open other files you've saved in it from the folder button. You can also make sure you'll be able to locate what you're writing easily later by changing the title of your document. To do this, tap the title and just type in what you want. Finally, you can email a copy of your text, or just copy and past the text into any app you want. iA Writer's a great too to get your writing finished, and then copy it over to another more busy app to finish your letter, post, or anything else you're writing.
Want to backup your documents, or access them from your computer or other devices? Just link your Dropbox account from the Documents menu, and everything you've written in iA Writer will be synced to a /Writer folder in your Dropbox. Do note that iA Writer doesn't currently sync automatically, so you'll need to remember to tap the sync button whenever you need your content elsewhere.
The only thing really missing here is support for folders and an option to choose your iA Writer sync folder. The developers have, however, promised that folder support will come in a future update, as well as automatic sync so you won't have to remember to hit the sync button.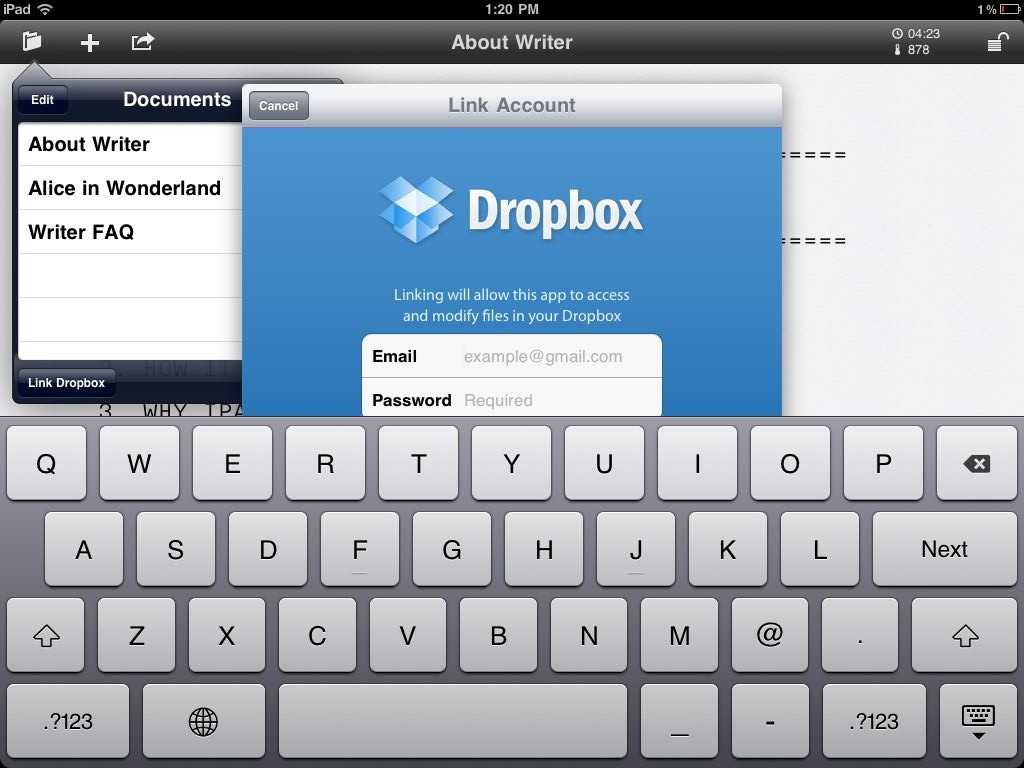 Conclusion
Obviously, everyone won't have the same needs from a writing app. That's why I think iA Writer is the perfect companion app for using along with Pages, WordPress for iOS, or other Office apps. iA Writer lets you focus on your writing, and then when you need to add more formatting and get documents or blog posts ready to share, you can copy and paste your text into other apps.
iA Writer isn't the only focused and elegant text editor on iOS. I'm still split between it and PlainText, my current favorite for writing notes and plain text. Even Pages makes a really nice writing environment, especially when you minimize the toolbar. For iA Writer to tempt me at all is amazing, and I was pleasantly surprised at how much the extra buttons and the focus mode made writing nicer. It was easy to see why iA Writer has been so highly reviewed; it really does make writing simpler. And it's even a nice way to read plain text eBooks; the monospaced Nitti Light font and clean interface makes easy on your eyes. At today's special price, it's a great chance to grab it and see if iA Writer makes writing and reading more pleasurable on the iPad for you, too.
Our Rating: 8/10

Download iA Writer for iPad from the App Store | $1.99 (current special price - normally $4.99)
Have more questions about iA Writer? Check out the FAQ
Thoughts? @reply me on Twitter.