Triage: The Simplest Way to Clear Out Your Inbox From Your iPhone
I'm picky about my email apps. I've stubbornly clung to Sparrow on my Mac even though it's not supported now, waiting on the hope that something (.Mail, perhaps?) will come out that's a better replacement for it. But on iOS, it's the default Mail app that I've stuck to. I didn't buy Sparrow, which worked out, and the Gmail app — while nice — never really fit like a glove for me. And I found the whole waiting-in-line part of Mailbox to be foolish, and didn't even download it.
Because, you know what, Mail worked for me. Here's how I usually use email on the go on the iPhone: I check my mail, deleting everything that's unimportant and quickly replying to the stuff that's quick, and then leave everything else in the inbox so I'll deal with it when I'm at my Mac. It lets me achieve Inbox Zero simply, and lets me keep email from being overwhelming. Mail works for that.
But there's a new app that works better: Triage. After hearing about it from Federico Viticci at MacStories, I knew I had to try it out, because for once, someone had made an app that perfectly fit my workflow and looked like it'd actually speed me up.
Here's how Triage works: you add your email account (Gmail, Yahoo!, iCloud, and IMAP accounts all welcome), and Triage will check for mail. It'll then show you a stack of little cards that show a preview of your email. You can likely know, based on that preview, whether you want to keep the email or delete/archive it. So, that's what Triage is designed for. You just swipe up to archive the email (or delete it — Triage archives by default, but you can switch that in the settings), or swipe down to keep the email unread in your inbox. Get through them all, and you'll have an empty Triage inbox — faux inbox zero, if you will, since there are still "unread" emails in your real inbox that you can deal with when you get to your computer or take time to sit down with Mail.app on your iOS device.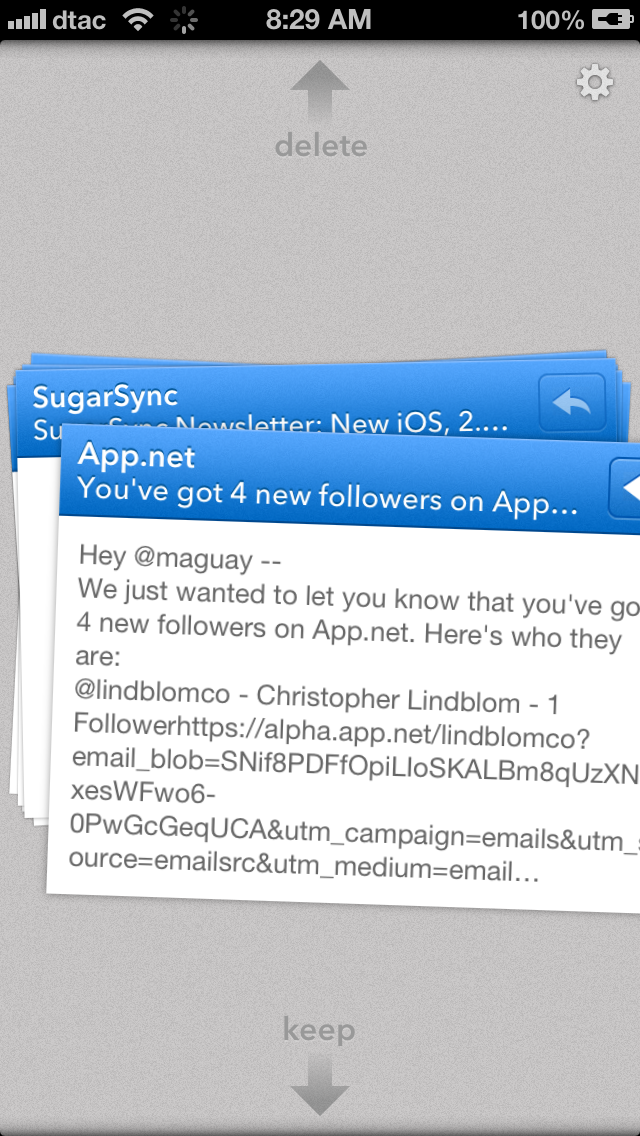 You can tap to see the full email, and you can reply or forward emails straight from the mini-card view or the full expanded view. Full HTML emails render perfectly, so no problem there at all. And the reply screen is delightfully minimal as well.
Fits Like a Glove
There's more, too. You can have multiple accounts - though unfortunately, you'll have to switch between them. I'd love to have a unified inbox of sorts in Triage, though it's not too frustrating to switch between accounts. You set the up-swipe setting per-account (which lets you either archive, mark email as read, or delete), which is nice, since I delete on my personal email and archive on my work accounts. Oh, and one other thing: deleted emails are marked as read, which is nice to see (and something some email apps I've used don't do unless you open the email first).
Now, hardly anyone could use Triage as their only email app; that's not what it's designed for. It's designed to help you clear out your inbox so you can focus on what's really important when you fire up your more powerful email app. There's no push notifications of new emails, and no Exchange ActiveSync support right now, so if you must have those, you'll need to stick with Mail.
For me, though, Triage fits like a glove. Its workflow perfectly fits the way I already used email on the go, and just makes it faster and — if anything — more fun. For $1.99 on the App Store, Triage for iPhone is an app I'd heartily recommend if you'd like a new way to clear out your inbox on your iPhone.
Thoughts? @reply me on Twitter.