Things | Advanced Task Management on Your iPhone
You've got tons of things to do today, next week, and on projects that you're not sure when you'll get around to them.  Sometimes simple to-do lists won't cut it, and you'll want a more powerful tool to take on your tasks and organize them into something you can really accomplish.  Today we're going to look at Things, a popular task manager for Macs and iOS devices, and see how the Things for iPhone app can keep you productive, even if you're a PC user and only use Things on your iPhone or iPod Touch.
Getting Started with Things
When it comes to to-do lists on the iPhone or iPod Touch, there are two main varieties: simple to-do lists that are quick and easy to use, and more advanced task managers that help you manage your full life and work load.  Things is firmly in the second camp, but is still almost as simple to use as a basic to-do list app.  Things began life as a Mac app in 2009, and has since become one of the most popular task managers on OS X.  It's now available for iPhone, iPod Touch, and iPad, and brings the same award winning simplicity to task management on iOS.
When you first launch Things, you'll be greeted with several lists that will be familiar to anyone used to GTD apps: Inbox, Today, Next, and more.  The Inbox is where all of your to-dos will go by default, and you could actually only use it and still get a lot of use out of Things.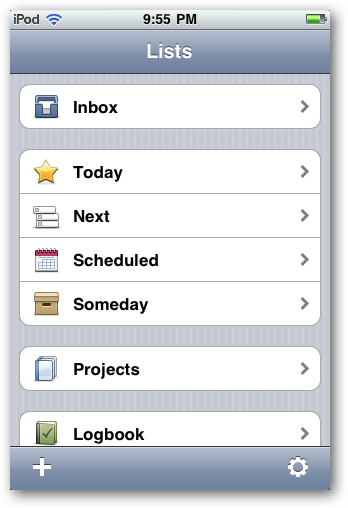 First, though, you need to add some tasks.  Press the plus button on the bottom left to add a to-do item.  Just enter the item and press Save to save it to your Inbox.  Alternately,press Show Details to add tags, notes, and a due date to your task.  Tagging notes is a great way to organize them as you need, and you can add as many tags as you need to keep everything organized.  If you've just got a second, just jot the task down and then you can come back and add more info later if you need.
You'll quickly start filling up your Inbox this way.  Press the arrow on the right to view extra info you've added to a note.  You'll see a tag icon on tasks that were tagged, as well as the due date on those you've added dates to.  If you want to get your tasks in the order you want, press the Edit button and rearrange them as you need.  Once you've completed a task, press the checkmark to mark it as finished.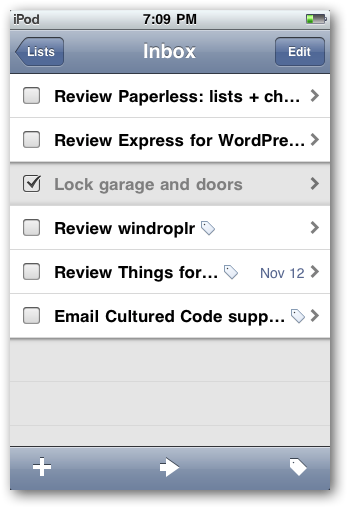 As you may have noticed on the first Things screen, you can also organize your notes into Projects.  These work like folders that you can move notes to so all of your tasks stay grouped with other tasks that go along with them.  Actually, though, the projects themselves are to-do items, so you can check of individual tasks in a project, or check of a whole project when it's finished.  Once you've added projects, you can choose to add a new task to the project when you create it.
The only problem is, with tasks in the Inbox, projects, and more, how do you keep up with what you need to do Today?  Things includes a great way to get everything you need to do today moved to the Today list.  Simply press the star button in any folder or the Inbox, select all of the items you want to do today, and press Done when you're finished.  These items will now show up in the Today list, and you'll see a badge on the list showing the number of items you need to do in blue and the number of overdue items in red.  Even if you're not using Things, you can still easily see how many tasks are left today by the icon badge on your iPhone home screen.
Once you've finished a task, it'll be automatically moved to the Logbook at the end of the day.  You'll be able to review all the things you've done here, so hopefully you'll be able to see how much more productive you've been with Things!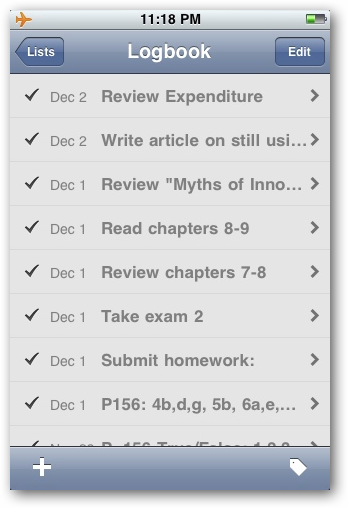 What's Missing?
The best thing is, Things is not a static product that's not getting any new features.  On the contrary, Cultured Code has several new features in the pipeline for Things on all supported platforms.  These include support for repeating tasks on Things for iPhone and support for Cloud sync, both of which are currently in development and planed for updates in the near future.  We currently don't know what the cloud sync will offer; will it include a Things webapp, or just be a syncing option between the versions versions of Things?  I personally a Things webapp is in the works, but either which way, these updates will add welcome new features to Things' already rich feature set.  If you'd like to see what else Cultured Code has up their sleeve, check their Status Board which shows upcoming features and products like an arrival board at an airport.

What About PC Users?
Many iPhone and iPod Touch users like myself use our iOS devices along with Windows PCs.  For the most part, this works great, but with apps like Things, you miss out on the included support for Mac apps.  However, in this case I don't find this to be a major problem.  I'd love to use Things on Windows 7, and will be very excited if it is ever released for Windows, but for now, managing my tasks on iOS only works great.  All of your to-do list data is backed up to your PC whenever you sync with iTunes, so your data is still safe.  As long as you're wanting to manage tasks only on iOS, this is still a great tool and you won't be missing out on too much.
Conclusion
Things is a very powerful and versatile task manager that makes it easy to organize all of your tasks and still stay on schedule with them.  It's amazingly simple to use considering how much power it offers.  I have been using Things as my primary to-do list and project manager for the past weeks, and it's definitely helped me stay on track and kept me from forgetting important assignments.  I'm looking forward to seeing what the Cloud Sync solutions turns out like, and will review it when it's out.  Even as it is now, though, Things is a great tool for keeping up with everything you need to do.  It's more expansive than most other to-do list apps, but it's also much more powerful.  If you're curious but not yet sure, check out the Things website and watch the video of it in action to get a better feel if it's the task manager you need to stay sane, on track, and organized!
Our Rating
:
9
/10

Download Things for iPhone from the App Store | $9.99
Things for iPhone and iPod Touch
Thoughts? @reply me on Twitter.