Students: Upgrade to Office 2010 and Windows 7 the Cheap and Easy Way
Being a college student can be awful at times … between homework and rising tuition costs, it seems like you never get a break.  But guess what?  There are still some great advantages to being a student, and one of the biggest is the discounts you can get on software.  Microsoft gives very generous discounts to students on their most popular products, and even gives away their developer tools with the Dreamspark program.  College bookstores usually carry discounted software, but they may take months to get the latest programs in stock.  Now, the need to wait is over … students can download steeply discounted software directly from Microsoft today!
The Ultimate Steal (that's still legal and available)
Yeah, I know, you're not supposed to steal.  Actually, Microsoft spends millions every year trying to keep people from stealing (pirating) their software.  But this is the other kind of steal … an amazing deal!  Microsoft has ran the Ultimate Steal special at ultimatesteal.com for the past several years, but now the program has been merged into their standard student discount page.  But don't worry … even though the Ultimate Steal has disappeared, the specials are still there for you to take advantage of.  The old address still works, and the discounts are still great.
If you're a current college student, you can get amazing discounts on both Office 2010 and Windows 7 Professional.  Here's more details:
Office Professional Academic 2010

Microsoft has simplified the Office suite lineup with Office 2010, and today there are far fewer versions of Office to choose from.  Office 2010 is available in 3 main retail editions: Home and Student, Home and Business, and Professional.  For students, there's an extra edition … Office Professional Academic 2010.  This edition contains everything in Office Professional 2010, but is specially licensed for academic use.  It includes:

Word 2010
Excel 2010
PowerPoint 2010
OneNote 2010
Outlook 2010
Publisher 2010
Access 2010

Microsoft has ran several different student prices over the past year, but it's not settled at $99.95 for Office Professional 2010.  This is still a great discount off of Office 2010 Professional's retail price, $499. Or, if you're using a Mac and still need Microsoft Office, you can get Office for Mac 2011 for $99.95 as well. To get it, just head over to the Microsoft Store Student Discount page, and select the edition you need. Now follow the steps below to finish your purchase and get your Office 2010 up and running!

Windows 7 Professional Upgrade

Last fall, Microsoft ran the Win741.com promotion around the time of Windows 7's launch.  It let students upgrade to Windows 7 for just $29.99.  The promotion ended after a couple months, and was replaced by an Ultimate Steal discount which let students purchase Windows 7 for $64.95. Now, with the new Microsoft Store Student Discounts page, the Win741 price is back!!!  Students can now upgrade to Windows 7 Professional for just $29.99.  If you haven't upgraded to Windows 7 yet, this is a great way to get upgraded to the latest and greatest version of Windows.  Or, if you've purchased a new netbook with Windows 7 Starter, this is an economical way to add more advanced features to your netbook, and you can simply purchase this and use the product key in Windows Anytime Upgrade. To take advantage of this deal, head over to the Student Discount page, and click More info beside the Windows 7 box. Review the information in the popup box, and then click Buy Now on the bottom of the dialog.  Remember, this is Windows 7 Professional, which includes all of the great Windows 7 features plus new features such as XP Mode. Finally, follow the steps below to complete your purchase.  Note that you'll need to burn your Windows 7 upgrade to a DVD, and if your computer is currently running Windows XP, you will have to clean install Windows and reinstall all of your programs.  As always, make sure you've backed up your files before upgrading Windows. Or, if you're wanting to upgrade your netbook that's running Windows 7 Starter to Windows 7 Professional, you won't need to burn it to a DVD.  Instead, don't download the Windows 7 software but just copy the Product Key and follow this tutorial to upgrade using Windows Anytime Upgrade.
Purchasing Software from the Microsoft Student Discount site
If you've purchased software with the Ultimate Steal discount before, such as Office 2007, you'll be used to the process as the website works the exact same as before.  First, enter your college email address, and click Submit.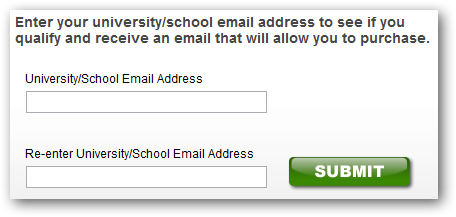 Please note that you must be enrolled in a valid US educational institution for at least 0.5 course credits currently to purchase with this discount.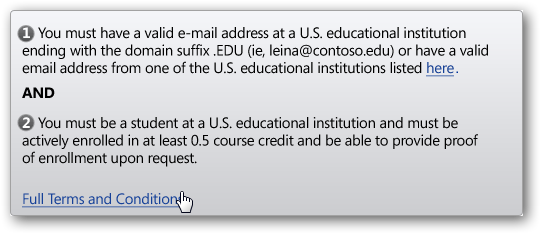 Once you've entered the info, you will see this message.  Check your college email, and if you're eligible you'll receive an email with a link to purchase Office with the Ultimate Steal discount.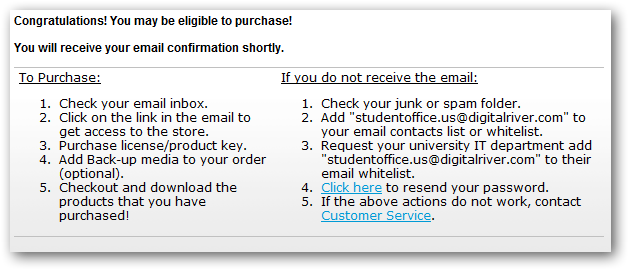 Now click the link in the email, and complete the purchase as you do for any other online purchase.  When you're done, you'll receive a download link and a product key.  Download the software you've purchased, install as normal, and activate it with the product key you've received.
Conclusion
Windows 7 and Office 2010 are some of the best products Microsoft has ever released, and getting them cheaper than ever just makes them better.  Hey, there are still some advantages to being a student!!!
And don't forget … if you purchased Office 2007 since March 5th, 2010, you're eligible for a free upgrade to Office 2010.  Head over to www.office.com/techg to claim your upgrade, or check back here for more detailed information on how to get your free Office 2010 upgrade.
Link
Get Student Discounts on Microsoft Software today!
Thoughts? @reply me on Twitter.