Speed up Evernote on Windows
Have you ever fired up Evernote for Windows to find something you've jotted down only to find that it's running glacially and takes forever just to open a note?  Even with the new and improved Evernote 4, sometimes it still is one of the slowest apps on my PC.  So much so, in fact, that I'd nearly switched to using Evernote web instead of the desktop interface.
Today, thanks to an Evernote forum thread, I found a couple tricks that can help speed up Evernote.  Follow along, and we'll see if you can get Evernote feeling snappy again.
Activate Detective Mode
Ok, it's not quite that dramatic, but Evernote does have some hidden developer tools that can help improve Evernote for Windows' performance.  First, if you have Evernote running, exit it from your system tray.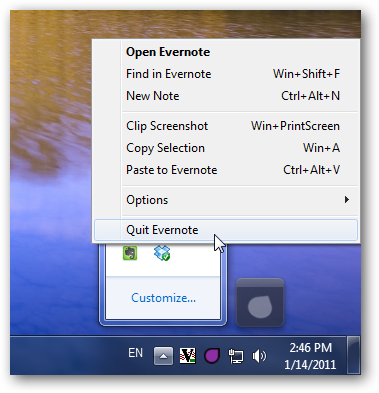 Now, open the Run command by pressing your Windows key and R at the same time (Win+R).  Enter the following in the box, the press Enter or click Ok:
Evernote.exe /DebugMenu
When Evernote opens, you'll notice a new [Debug] menu on your toolbar.  This includes two options that really seemed to speed up Evernote on my computer: Optimize Database and Recreate Note Images.  Optimizing your database is likely to help Evernote's performance the most, though if you have some notes that have odd thumbnails (or no thumbnails), then you might try recreating the note images as well.
Both of these options will take several minutes to run, during which time you'll see the status updated in a progress bar.  If you'd like to give both options a shot, just run one, then the other.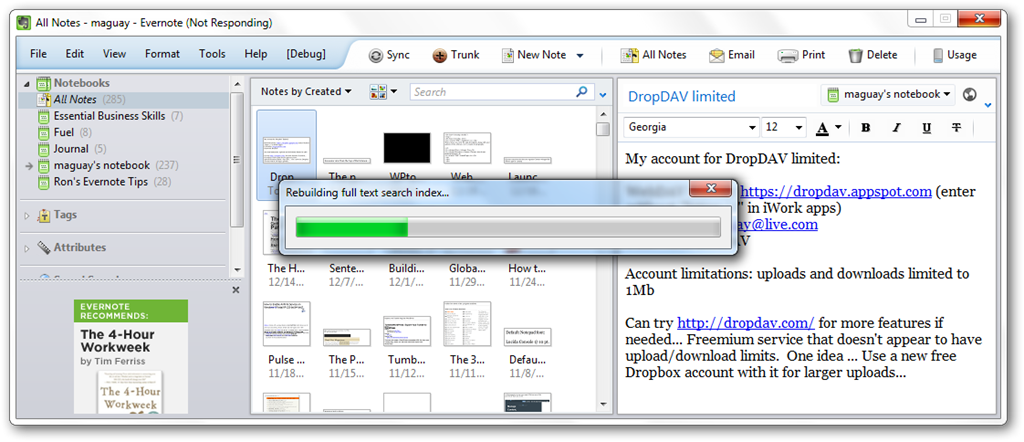 Once it's finished, you can continue to use Evernote as normal, or restart it to get rid of the [Debug] menu.  Evernote still isn't the fastest app, but it's much improved after optimizing my database.  I've got tons of notes in Evernote, and love the Evernote apps on iOS, so would really hate to quit using it.  I really hope Evernote works to optimize Evernote for Windows and make it run faster, but in the mean time, this at least provided a bit of help for me.  Hopefully you'll find this helpful too … let us know in the comments!
Thoughts? @reply me on Twitter.