Restore In App Purchases on iPhone, iPod Touch, or iPad
One of the best things about Apple's iOS devices is that once you purchase an app, you can always re-download it and install it again for free if you ever remove it.  But what happens to In App purchases you make inside an app?
Recently I purchase an In App upgrade for the first time in one of my favorite apps, PlainText.  This app is a great free text editing app, but its ad supported and I purchased the In App upgrade to remove the ads.  Minutes later, I managed to remove PlainText from my device when I was trying to clean up other note taking apps I'd tried out.  So, I quickly reinstalled PlainText via the App Store, only to see that the ads were back in the app.  Thankfully, I found that it's fairly easy to get your In App purchases back just like App Store Purchases, even if it's not obvious at first.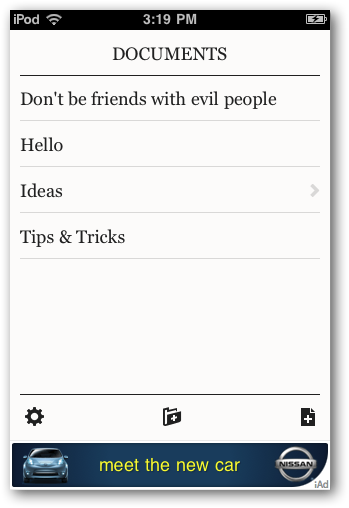 When you press the gear icon to open settings, you'll see the option to purchase the In App option to remove ads.  This is what I'd previously purchased, so I didn't want to purchase it again.  But, as it turns out, you won't need to.  Simply tap the option and press Buy just like you're going to purchase the In App upgrade again.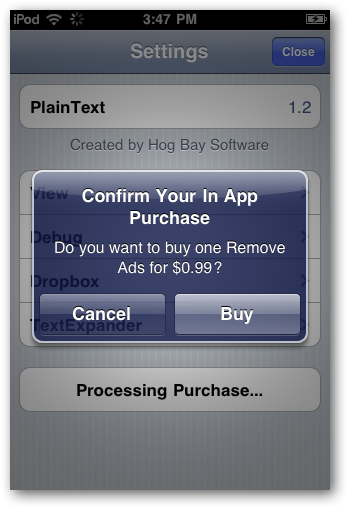 You'll be asked to enter your iTunes account info, and then you'll be notified that you've already purchased the upgrade.  Phew!  Simply press Ok, and you'll get your In App purchase back just like it was before you removed the app.  Do note that this will only work with purchases that you can't use up; some games include subscription upgrades or let you pay for more lives, ammo, or other things, and these can't be restored after you've used them.  But for most upgrades, it'll work fine just like it did for me in the PlainText app.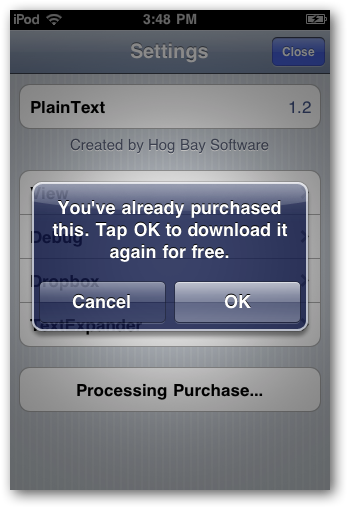 Speaking of which, If you aren't already using the PlainText app on your iOS device, you should definitely try it.  It's one of the nicest text editing app available with a beautiful, clean UI and Dropbox syncing.  It's a free, ad-supported app, too, but if you'd like to get rid of the ads, you can purchase the In App upgrade to remove ads as I did above for only $0.99 in November.  If you enjoy writing or keeping text snippets always available, this is an app I'm sure you'll enjoy.
If you'd like more info about In App purchases, here's an Apple Care article with more info about them: iTunes Store: About in app purchases.  If you do have more trouble with them, feel free to contact Apple Support; they were amazingly helpful and prompt when I contacted them over this issue.  At any rate, you can feel safe that your iOS purchases will always be usable, no matter if they're apps or in app purchases.
Thoughts? @reply me on Twitter.