Get Angry Birds on Your Windows PC
Want to get the most popular mobile game on your PC? Angry Birds has taken the iPhone and Android world by storm, and it was recently released on the new Mac App Store. Windows doesn't include an App Store by default, so for the most part you have to manually find, purchase, and install new programs you want. That is now changing with Intel's AppUp Store. The AppUp store is designed to bring new applications to Windows XP and 7 based netbook, but it works fine on normal Windows desktops and laptops as well. Best of all, Angry Birds is now available for $4.99 on the AppUp Store and runs great on any Windows computer.
Note: Angry Birds is now available for all Windows Computers directly from Rovio, so you can now get it without the Intel AppUp store. Just go to http://download.angrybirds.com/, and you can download trial and paid versions of all the editions of Angry Birds!
Install the AppUp Store
First, though, you'll need to install the Intel AppUp application on your PC. Download and install it as normal on your computer. This should only take a few minutes, and once it's installed, you'll have quick access to tons of great, new free and premium apps for your Windows PC.
[box type="info"]Note: While the AppUp Center works great on both Windows 7 and Windows XP computers, it is not working at all on Windows Vista in our tests. If you try it on Vista and get it to work, please let us know in the comments below!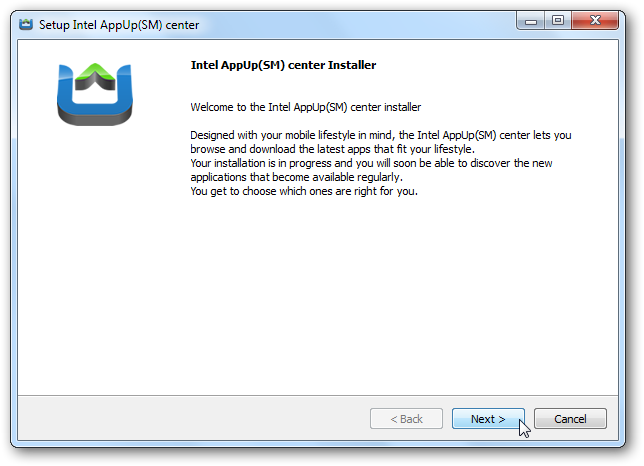 In the mean time, you'll need to register for an AppUp account. Head over to the AppUp registration site, and enter your personal and credit card info so you'll be ready to purchase new apps like Angry Birds.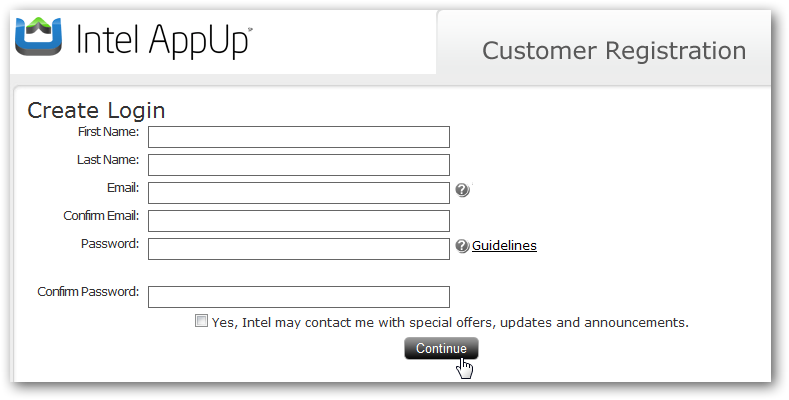 As soon as the install is finished, the AppUp Center should automatically open. If it doesn't, you'll find it in your Start menu or on your desktop.  You can now browse the store and see the different games and apps that are included. Apps are organized into categories, with featured apps front and center similar to the way the iOS App Store looks in iTunes. Only difference is, this time, the programs are designed for your PC.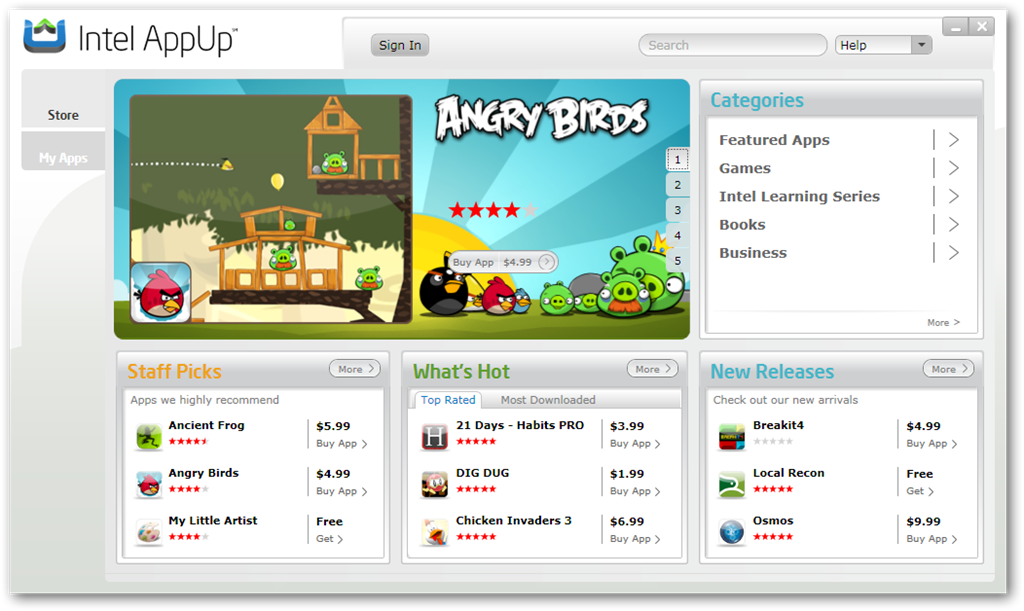 Getting Angry Birds
Ok, enough talk. Let's get the game everyone wants: Angry Birds. It's currently a featured app, so you could just click Buy App right from the front page. Alternately, click its link or search for it via the top search bar to see more info. Once you're sure you want to buy it, click Buy App.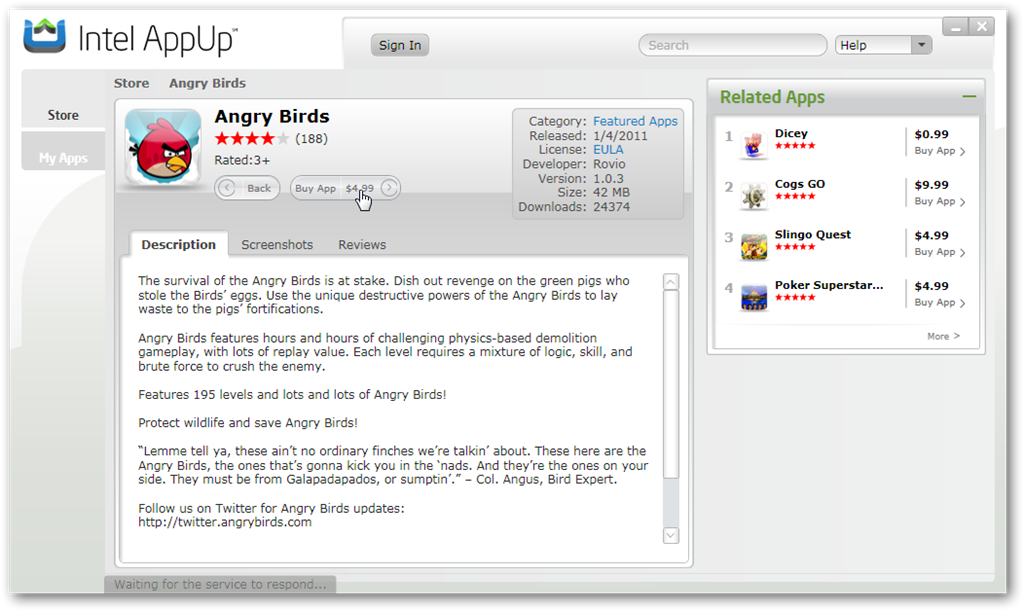 When prompted, sign in with the account you made previously, then confirm that you want to purchase the app. The AppUp Center gives you a 24 hour free trial, so you can return the app within 24 hours if you decide you don't want it.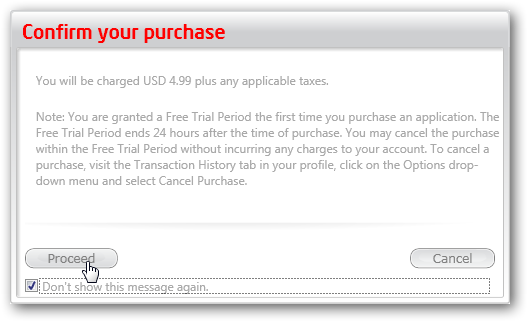 Angry Birds will now start downloading, and will automatically install once its downloaded. It still uses a standard Windows Installer, and you may have to click an UAC prompt during the installation, but overall it's quicker and easier than traditional Windows program installs. It's not as easy as installing apps from the Mac App Store, but it's not that bad either. And, if you have multiple PCs, you can install the same app on up to 4 computers with the same account for no additional charge!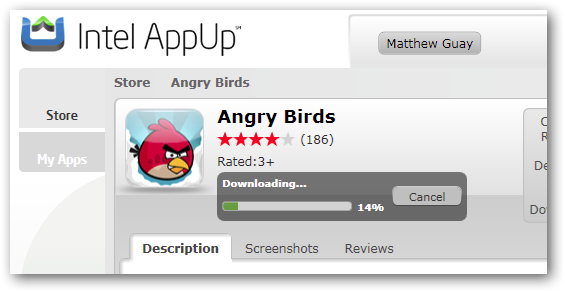 Smash Those Pigs!
Once its installed, you can launch the game straight from the AppUp center, or from the Angry Birds link in your Start menu. Seconds later, you'll be playing the world's favorite touch screen game … on your PC with a mouse! I'd say it'd be rather fun on an HP Touchsmart or other PC with a touchscreen, though I don't have a touchscreen PC to try it on. If you've got a touchscreen PC, let us know how it works on it!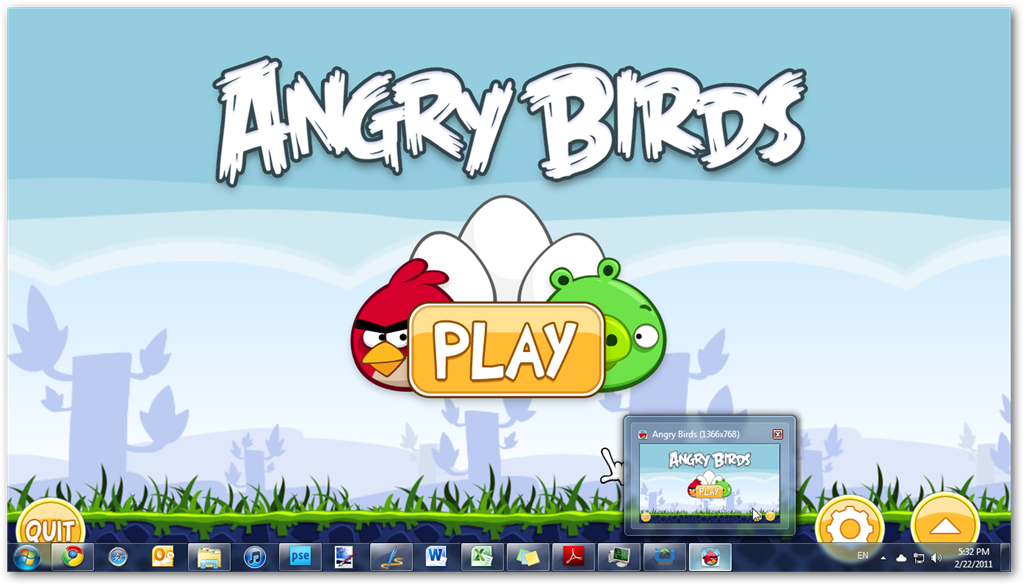 Angry Birds worked great on my main PC, which is a Windows 7 desktop with an AMD Athlon 64 x2 processor … definitely not a netbook! It also works great on netbooks, of course. The only computer I couldn't get it to work on was a Vista desktop with an Intel processor; hopefully they'll support Vista in the near future, but for now, the App Center only runs on Windows 7 and XP.
Angry Birds for PC includes everything you love about Angry Birds, including all of the standard levels. The only problem is, you can't import your score from your iPhone or Android phone, so you'll have to go beat all the levels all over again! Or, if you haven't gotten to experience Angry Birds because you don't have a modern smartphone, it'll be all new to you.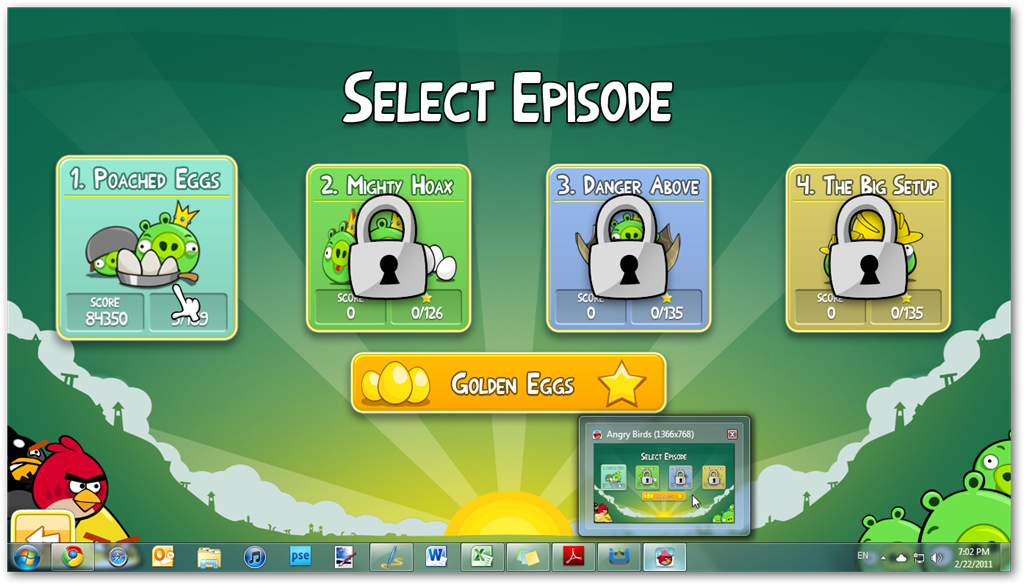 Since most PCs don't have touchscreens, you'll have to drag the screens with your mouse to pan and see the whole level. Then, just click and drag your bird back, aim, and release your mouse to set your bird sailing through the air to the birds.
Oddly, the only major problem I had with Angry Birds for PC was with taking screenshots. It interferes with almost every screenshot program, so the only way I could get shots is to press Alt-tab and then hover over the Angry Birds icon in my taskbar. Camtasia Studio couldn't take a video screencast of it, either; it just recorded my desktop with my mouse going back and forth and the Angry Birds sounds in the background. But hey, you don't usually need to take screenshots while playing a game, so this shouldn't be a problem!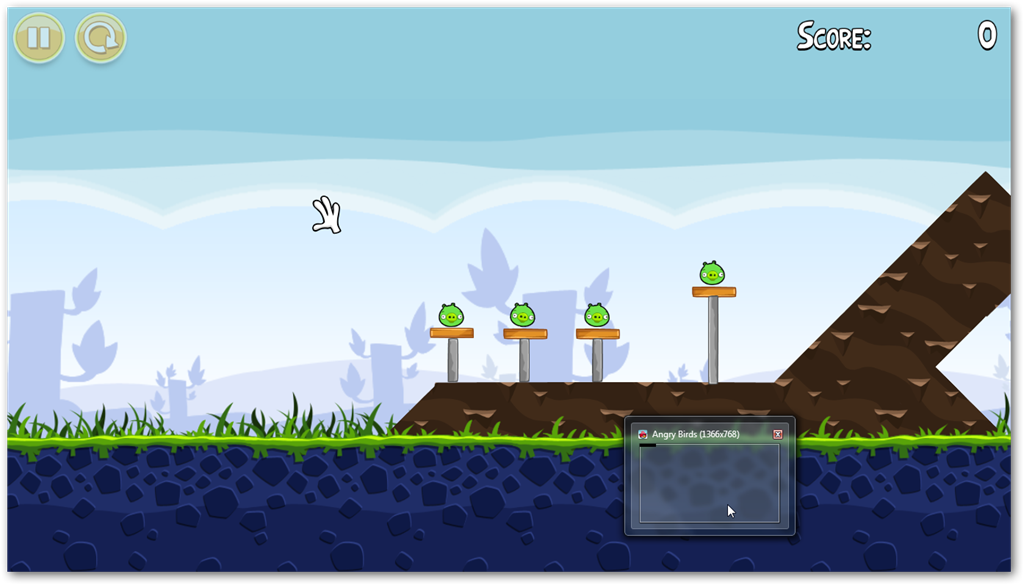 Returning AppUp Center Apps
Of course, Angry Birds isn't the only interesting app in the AppUp center, so feel free to check out other apps in the store. There's plenty of free and for-pay options, and you just might find a fun, new app that you've never come across before. Best of all, you can try out any app, even paid ones, for free for 24 hours. If you decide you don't want the app, just open the AppUp Center and click the My Apps tab on the left. Select Transaction History, then click the Options button on the app you want to return. Click Cancel Purchase before your 24 hour timeframe is up to return it. You'll be asked to tell why you're returning the app, and then it will automatically uninstall from your computer. That's tons easier than most ways of trying out new programs!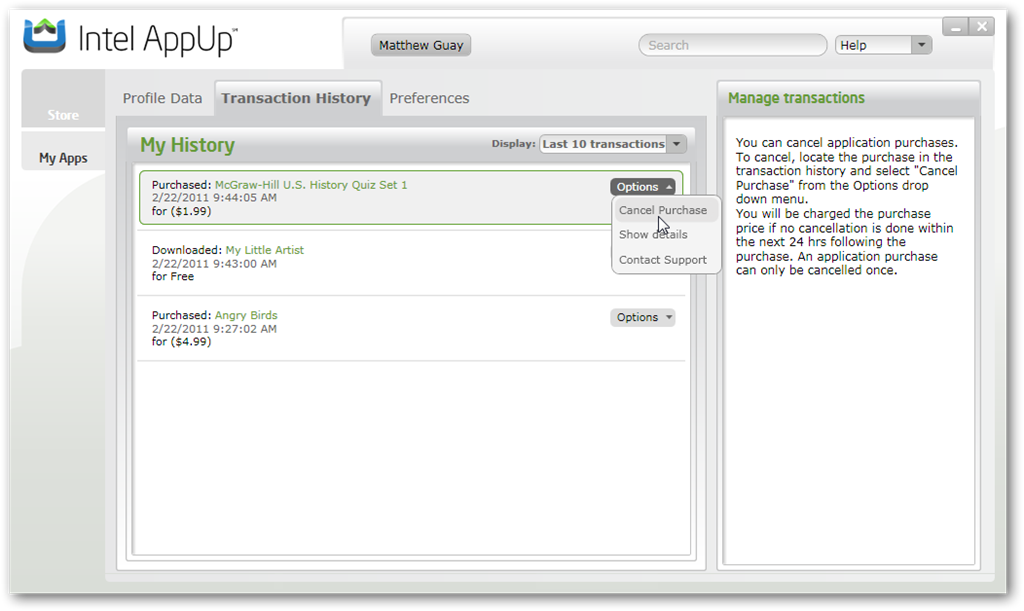 Conclusion
It's exciting as a Windows PC user to see new apps coming out for PCs again. Recently it's seemed like all the developer focus is on mobile and Mac apps, but Intel's AppUp Center just might turn things around again. In fact, some developers are finding it easier to get their new apps out for PCs than on Apple's App Stores. TinyGrab, a great freemium screenshot utility for Macs, Windows, and iOS, has recently found Apple's restrictions on the App Store too restrictive for their app, while at the same time they've found it easy to work with Intel on getting their app on the AppUp Center.
Hopefully Intel will continue to improve the AppUp Center and make it fully supported on computers other than netbooks. And, of course, hopefully Microsoft will make their own App Store for Windows and make it easier to get apps on all modern versions of Windows. For now, though, all the apps I tried work great on Windows 7 and XP. And hey, who would have thought that Angry Birds would finally be available for PCs?
Angry Birds Info Page on the AppUp Store
New! Download directly from Rovio Without the Intel AppUp Store
Thoughts? @reply me on Twitter.