Foxit Reader 4.0 | Freer than ever before!
Foxit Reader is one of the most popular alternates to Adobe Reader, and users around the world have chosen to use it as their default PDF reader on Windows, Linux, and a variety of mobile devices.  Today the latest version, Foxit Reader 4.0, is being released, so here's our look at the new features.
Foxit Reader has always been a great PDF reader, since it's lightweight (using under 10Mb of ram when running without a PDF open), fast, and secure.  Foxit Reader was also extendable with a variety of for-pay addons including the Pro Pack that let you markup and perform basic edits on PDFs.  And since it is cross-platform, Foxit has been the go-to PDF reader for users who want the same features on both Windows and Linux.
But now, there's 4.0
Today, however, Foxit Reader is freer than ever.  The latest version, Reader 4.0, that is being released today, included markup and editing tools for free in the standard Reader install.  You can add notes, insert words, stamp your signature, or even add multimedia files such as mp4 videos directly to PDFs, all in Foxit Reader for free.  Let's look at the latest version, and what you'll find to make your PDF editing easier than ever.
Getting Started
Download the latest version of Foxit Reader from the link below, and run the installer as normal.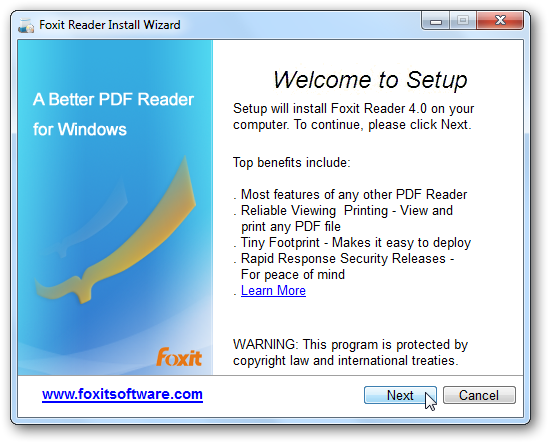 Foxit Reader 4 uses Safe Reading Mode by default, which helps protect your computer from malicious PDFs.  As PDFs have been increasingly targeted by hackers, we recommend you leave it enabled as default; however, if you'd prefer, you can uncheck the box during the setup to have PDFs render in standard mode.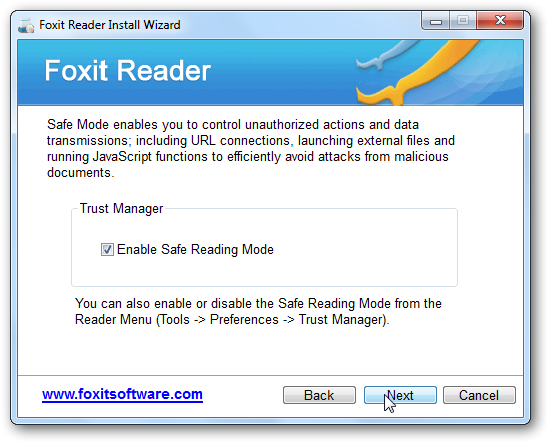 Additionally, you can choose to not install links to 3rd party sites if you do not want these.  Unlike in previous versions, Foxit Reader 4 still includes all of its advanced features even if you don't install the optional tie-in products.
Once it's installed, launch it from the start menu or select to run it immediately at the end of the installation.  Welcome to the latest version of Foxit!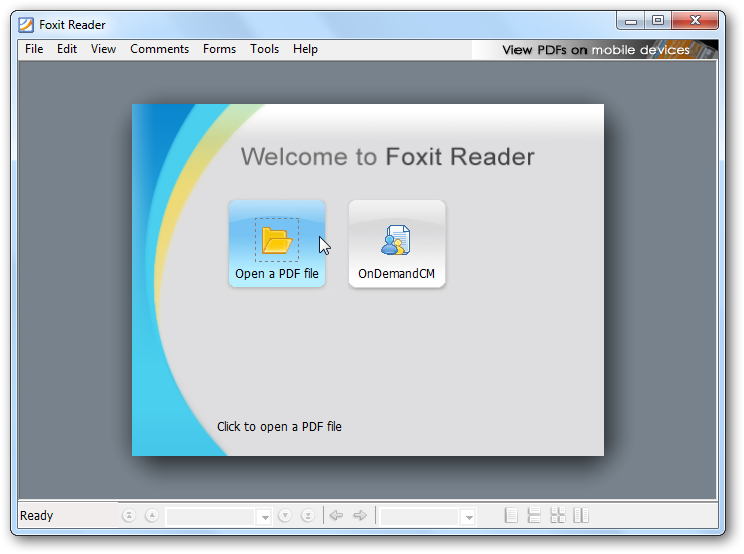 Note that some features, including spell checking and OnDemand CM, require a separate, free download.  When you try to use a feature that needs a download, Foxit will prompt you to download the extra component.  Click Yes at the prompt to automatically download and install the extra components.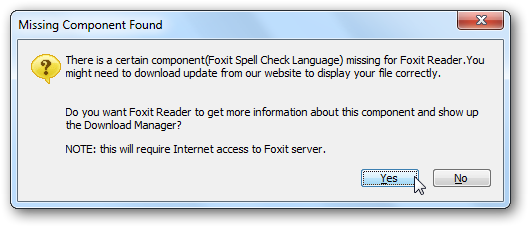 New Features
Foxit Reader 4 looks very similar to previous versions, and uses the same toolbars and menu system.  This makes it easy for longtime users to find their way around, though we were slightly disappointed to not see a more updated UI.
It still renders PDFs great, and we could not tell any formatting differences from other PDF applications.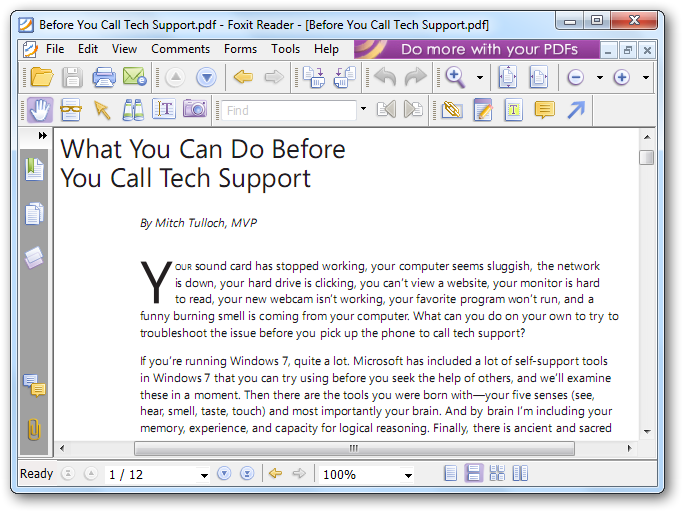 But, there's plenty more to be excited about under the hood.  You can quickly get started marking up and adding content to PDFs from the toolbar on the bottom right.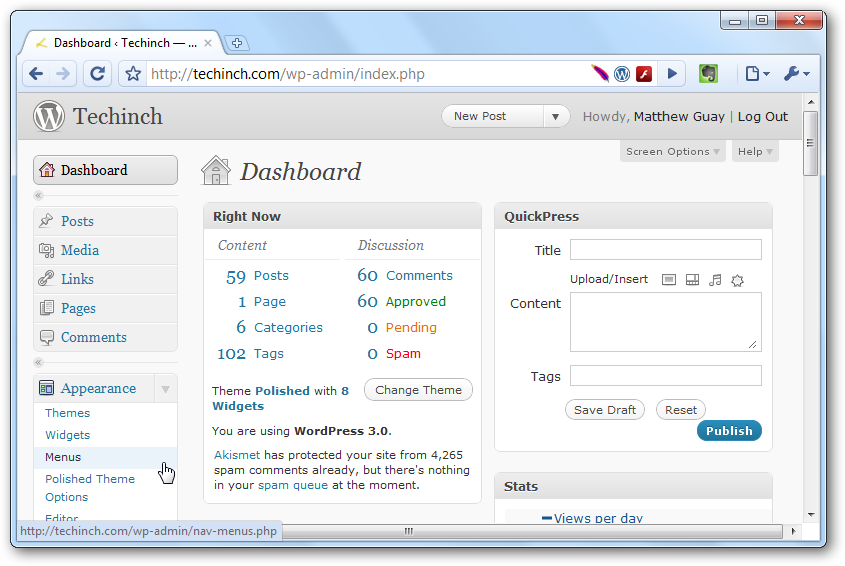 You can insert text directly on a PDF document.  Note that you cannot actually remove existing words and replace them, but you could add an extra line of text if you need.
Fun Fact: Interestingly, Foxit Reader uses Helvetica as the default editing font, even if Helvetica isn't installed on your computer.

You can also select any section of the PDF and make it into a link to a file, website, or location in a PDF.  This is very useful if you'd like to add a linked Table of Contents to a PDF ebook, for example.
One of the most exciting features is the ability to add multimedia content to a PDF.  From the Edit menu, you can add images or movies to a PDF, or even attach another file to the document.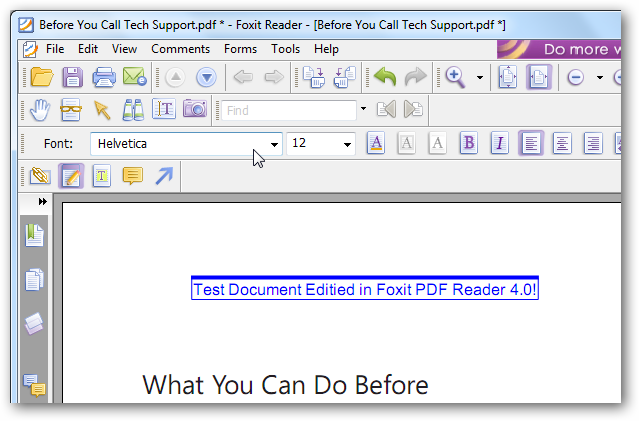 Foxit makes it easy to find more information about anything.  Simply select a word with the selection tool, and a small popup will hover near the selection that lets you search for the term on the internet.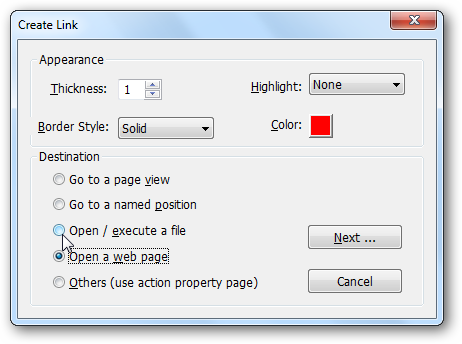 Another cool feature is that you can view a PDF as a text file.  Click the glasses icon to activate this feature.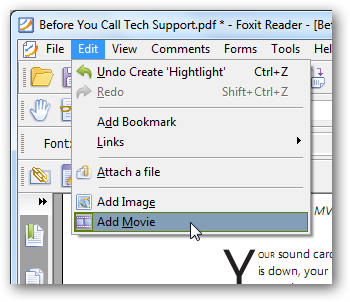 Now you can focus just on the content, which can be nice if you're distracted by sidebars and images in a PDF ebook.  This also makes it easy to select text to copy and use elsewhere.

Conclusion
Foxit Reader 4 is still an excellent PDF reader, but more exciting are the new markup and editing tools.  While Reader is still not a full-fledged PDF editing suite, it does include many features that will make it nice for many home and business users.  And, since all of the features are free, Foxit Reader 4 doesn't feel like a limited product, and doesn't nag you to purchase upgrades.
So if you're a longtime Foxit Reader user, or regularly use another PDF reader but would like more control over your documents, Foxit Reader 4 is a great upgrade.  It's fast, keeps you secure, and even lets you take your documents further!
Thoughts? @reply me on Twitter.