Apple Watch: Watch Everything
A review of the Apple Watch Series 4, after eight months of use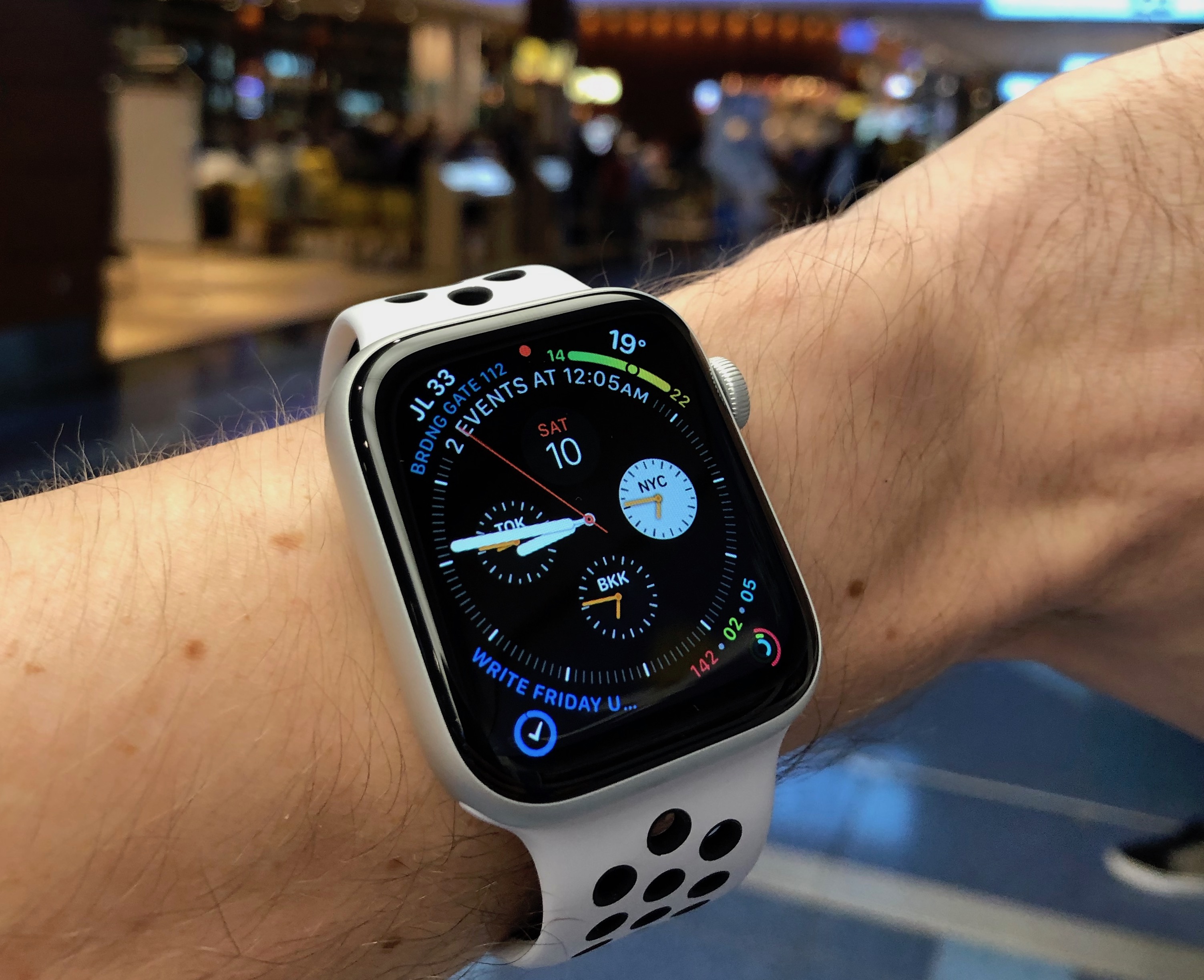 You're running late, or so you fear. You instinctively raise your wrist and see the minute hand hovering near 10. You're good. You've still got a few minutes left.
You might not notice the date or even the hour. They're there, but the date doesn't matter right now, and you can visually confirm the hour without thinking much about it. It's the minutes that matter.
That's how watches have worked for decades. And that's essentially the Apple Watch experience, too, only with more bits of data—more complications, in horology-speak.
Feel like it's surprisingly hot? Glance down and, oh, it's 37°C, no wonder it's so hot. Need the time in another city, your next flight's gate, the current air quality index, or the next task or appointment on your agenda? Those and more are also just a glance away, depending on how you set up your watch. The same way you quickly see the time on a traditional watch without paying attention to the date or other complications, on Apple Watch you can get the weather or any of dozens of other bits of info in a quick glance without noticing the other stuff. Seems crazy, but over time it seems your eyes and brain know where to glance to get the info you need, and when you glance down wondering what the weather is, that's the main thing you'll notice. You might check the temp and not notice the time. And when someone mentions it being hot, you'll look at your wrist instinctively like watch wearers already do for the time, and feel like something's missing if your watch isn't on your arm.
It doesn't pull you in quite like a phone screen with all of its apps and longform content luring you to keep tapping. The Watch only shows bits of actionable data so you can go on with your real life.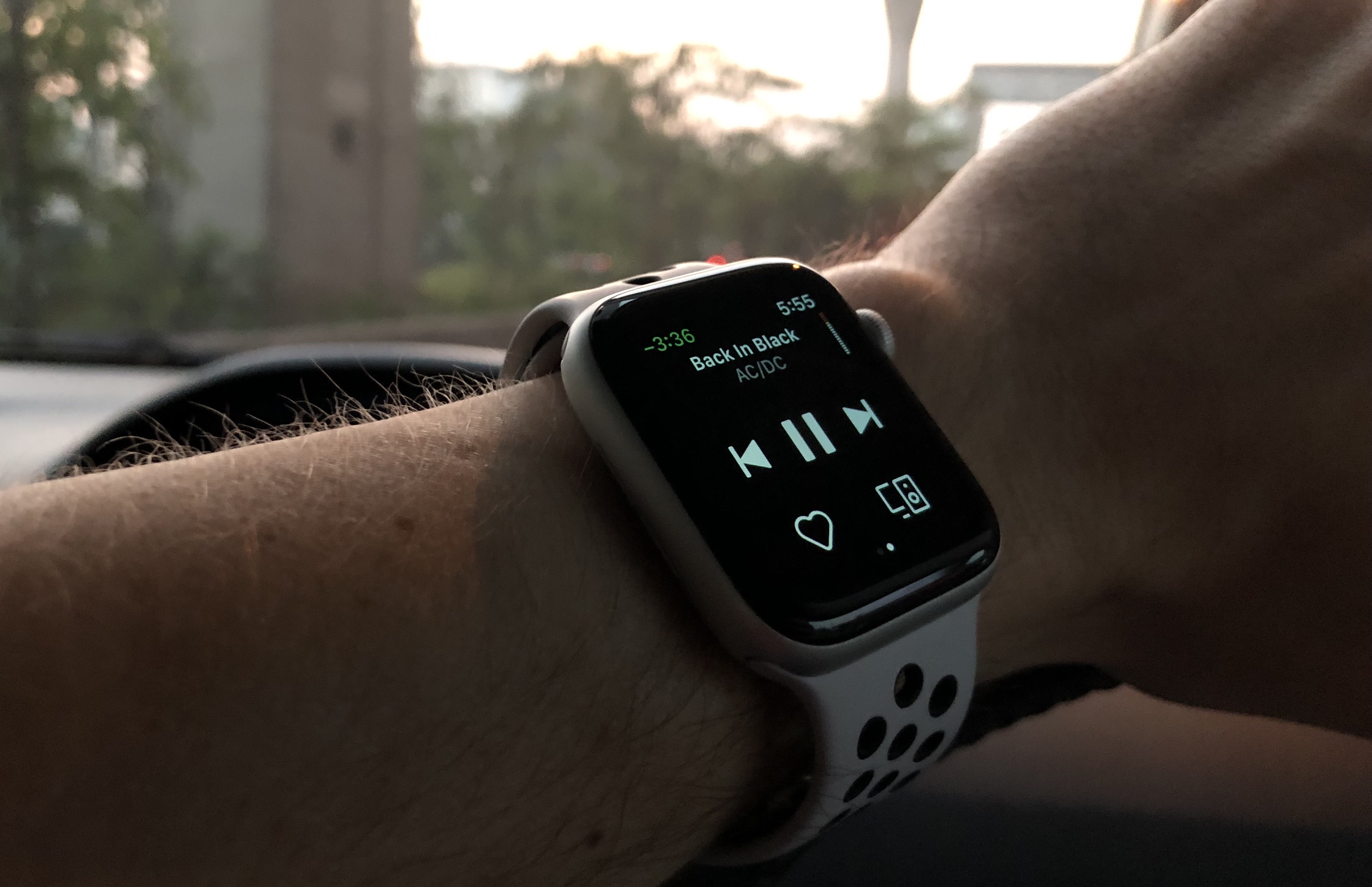 Apple Watch context switches based on what you're doing, which is where apps feel the most immersive. If you go for a run or swim, for instance, you can track it with the built-in Workout app (which will notice if your exercising and offer to log the workout even if you forgot to start the app first) or a 3rd party app like Nike Run Club or Strava. Then you'll run as normal, forgetting the watch until you are wondering your pace or how much further you need to go. Glance down, and there's the info you need, the distance in one corner, your average speed in another, and so on. The time is ever-present in the top right of the Watch, too, if you need.
Walking somewhere? Use Apple Maps to find the best route, then glance down to see how much further you have to go, or rely on vibrations to know when it's time to turn (with slightly different vibrations for left and right turns). Listening to music or a podcast, even one you started from your phone? Glance down to see the track details, playing time, and large pause and skip buttons, perfect to see the artist's name or jump to a next track. When you're doing something immersive, an app turns your Watch into a different gadget built around the data you need right then, for what feels like the closest thing to augmented reality for your real life.
Of which, notifications are another part, the third core part of the Watch experience. Any app that can send you notifications on your iPhone can pass them to the watch, where they tap your wrist, let you see the full notification and reply to it if possible (such as with chat apps) or take other actions (such as deleting an email message from the notification). See the notification, quickly reply with dictation, and go on with your life without opening the full app. If the notification came from an app that supports the Watch, you can tap the notification to see it in the app (especially helpful to get the full context on a conversation in chat). But even without a Watch app, you can still reply to many notifications directly from the Watch, as I often do with those from Slack.
Notifications are annoying enough on the phone. On your Watch, they'll drive you mad if they're not notifications you want. I've restricted mine to the ones I find most valuable: Chat and important emails, finance for payment notifications, calendar to get reminded of upcoming events, and transit apps to know when a Grab or Uber has arrived. Each of those are helpful enough to want something poking you on the wrist when they come in.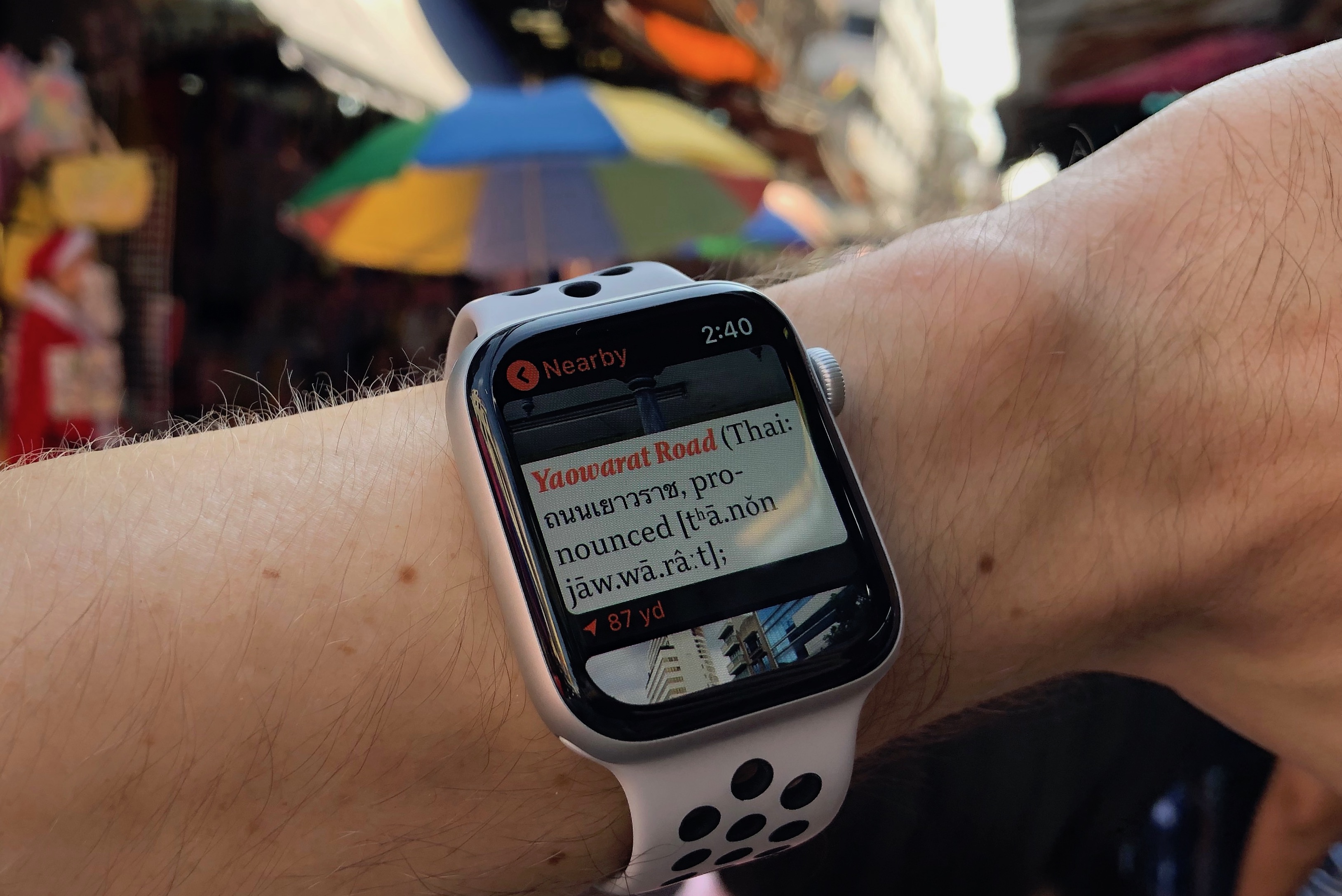 Apps are a core part of the Watch experience, ever present in complications, notifications, and as full-screen apps when needed. You can also run apps on their own from the home screen, helpful say to check your bank account balance or to dictate a new note. They're good for scratching an itch, when something comes to mind and you want a quick bit of data. They're not like iPhone apps, where you would waste time scrolling through feeds, or like iPad and Mac apps where you would sit down to work. They're instead good at bits of data, telling you something small or logging data for you to expand on later.
A great example is the V for Wiki app. On an iPhone, it's a nicer way to read Wikipedia. On a Watch, it's a quick way to see what's nearby. Walking around a city and wondering what important things are in the area? Tap V for Wiki on your Watch, tap the Nearby button, and discover things around you. It scratches that itch of wondering what's around, in seconds, without pulling you away from your surroundings.
Or take Drafts. On iPhone it's a detailed writing app with tools to automate your text and use it to start workflows. On Watch, it lets you read recent notes, or dictate a new one to save for later. Less features, but exactly what you need to remind yourself of something you wrote down recently or to log something new so don't forget it. To-do lists are another perfect fit for the Watch, of which Things lists things that need done, and Streaks lists the routines I need to do daily (read a book, work out, and more)
The Watch includes two other helpful features, both of which only make sense if you live in an Apple ecosystem. You can have the Watch auto-unlock your Mac, to keep it secure without typing in your password every time. And you can use Apple Pay to pay for stuff from your wrist. Both nice extras, but not critical.
The critical thing is the watch face, with the time and other complications (including one on many of the more decorative watch faces, and up to 8 on the Infograph face on newer Watches). You can customize watch faces to the style you want, then swipe between them to quickly go from the productive Infograph face to the fun Mickey Mouse face to the more dressed up Numerals or Chronograph faces, depending on the occasion. Fit them to your mood or outfit, or to the bits of data you need from complications that fit particular timeframes.
The same goes for Watch straps: I use the platinum Nike sport band that came with my watch for workouts and more active days, and a "midnight blue" standard sport band otherwise. Apple's sport bands feel quite nice, and even though I've always preferred leather bands in traditional watches, the sport bands fit the spot for me for now. But if you want something nicer, there are plenty of options available, all easy to swap in seconds, making the Apple Watch easier to match to outfits than almost any other watch (aside from a large square screen not perhaps fitting into any formal attire, regardless the strap).
It's a watch—a thing to watch all the little bits of data in your life, not just the time. And that's pretty handy.
Thoughts? @reply me on Twitter.