A Tale of 4 eBook Textbook Systems: CourseCompass, CourseSmart, NookStudy, and Kindle
eBooks are one of the hottest topics this year, with eReaders, tablets, netbooks, and even smartphones making it easier than ever to read your favorite books wherever you are.  Unfortunately, it's not just as simple as deciding to purchase an eTextbook and then getting it.  The system right now is somewhat a mess, but we'll help you wade through it and see what's best for you.
What's Available?
eTextbooks are just digital copies of the normal paper textbooks students have carried around on campuses for decades.  Unlike dead-tree books, however, eTextbooks are often only available from one store, and then can only be used on certain programs and devices.  Additionally, many eTextbook systems only rent their eBooks; you'll pay for the book, but only be able to access it for 180 days or so.
Some of the most popular eTextbook systems with the most books available are Amazon Kindle, B&N's NOOKstudy, CourseCompass, and CourseSmart.  Between these, you can find almost any standard textbook you need.  I've personally used textbooks from all of these systems for classes I've taken, and here's what I've found with each:
CourseCompass:
CourseCompass is an online course system from Pearson education.  It's designed to offer extra study aids to go along with your courses, which you'll usually access via an access code from the back of a book (a trick publishers invented to try to curb the used textbook market … another frustration I have with textbook publishers).  Alternately, you can also purchase a CourseCompass subscription directly for your class.  These usually include an eTextbook, and since it was cheaper than other options, I chose this for my Accounting textbook this past year since I was required to use the CourseCompass extra study aids for the class.
Unfortunately, CourseCompass eBooks are almost unusable.  They are only available online, and are powered by Adobe Flash.  You first have to jump through several clicks just to open the online textbook.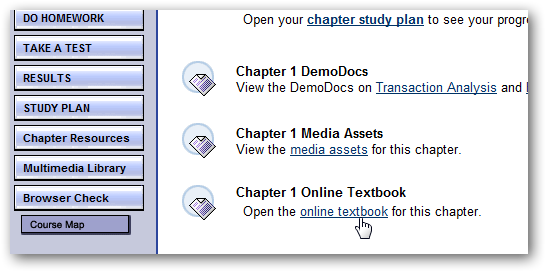 Once it's open, you'll be hard pressed to make the book comfortable to read.  The fonts are somewhat blurry, and it's hard to get the reader window the size that works best for you since the reader is Flash based.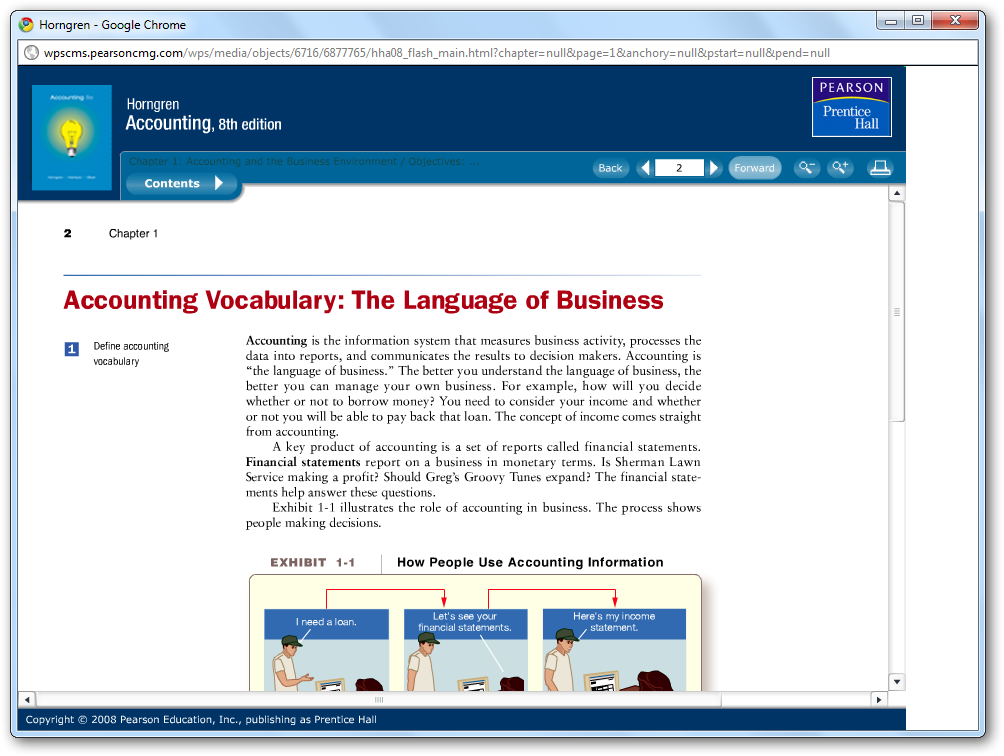 Switching to another section of the book can be difficult, and there's no built in search or links in the index to help you quickly jump to the section you want.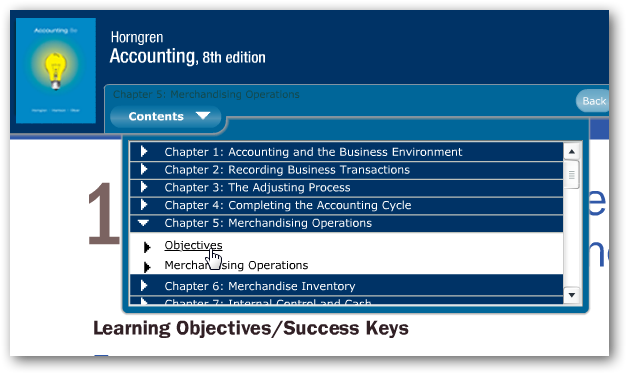 Simply switching to the next page takes several seconds.  You can't easily keep the book offline, either, since you're only allowed to print one page at a time.
Since CourseCompass books are tied to your class, you'll only have access to them while the class is active.  Once the class is finished, you won't be able to access the book again.  I personally recommend staying away from CourseCompass eBooks as much as possible, and even if you need to use their online course companion resources, I would not recommend using it for textbook access.
CourseSmart:
CourseSmart is currently the leader in eTextbooks, as they offer over 90% of the standard textbooks used in colleges across America.  CourseSmart eBooks look just like they would on paper, including images, sidebars, indexes, and more.  All of their eTextbooks are available for an 180 day rental period, and you can choose to either purchase on online subscription or download a special app and have your book offline.  The online reader is all HTML based, so you can read the book easily, copy text, highlight, and more.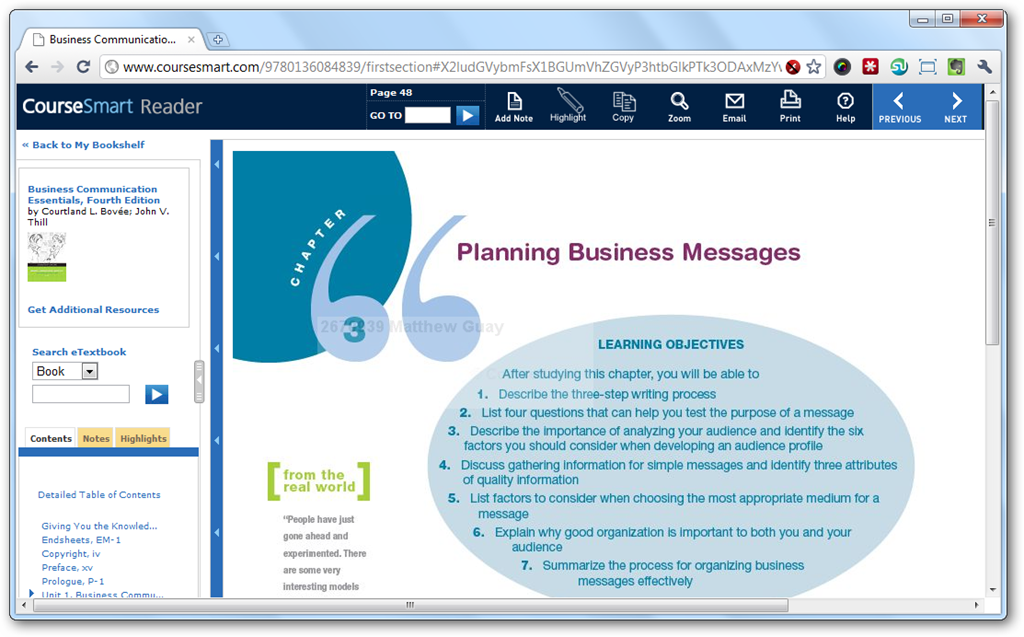 One great advantage is that you're allowed to print up to 10 pages at a time, and up to a total of 150% of the total number of pages in the book, so if you need a hard copy of the book or want to keep it offline, CourseSmart lets you have it.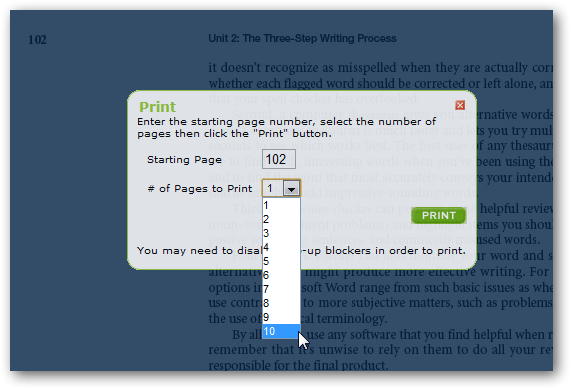 If you purchase an online subscription to a CourseSmart book, you can access it on your iPhone, iPod Touch, or iPad with their free CourseSmart eTextbooks for the iPhone app.  Unfortunately, the books are very difficult to read on iPhone or iPod Touch since they render the entire page of a textbook just like it would appear on paper, making it hard to read on a small screen.  Additionally, you have to be online to access CourseSmart books from your device.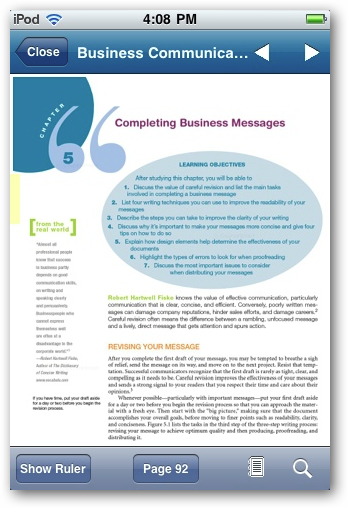 While CourseSmart is still not perfect, it's my second choice after Kindle, and with the amount of textbooks they currently have available, you're almost guaranteed to find some of your textbooks there.
Kindle:
Amazon Kindle is my personal favorite eBook platform, and it currently offers more books and runs on more devices than any other eBook system.  They now offer an increasing number of eTextbooks, and would be my first choice when purchasing an eTextbook for a number of reasons.  First, all books are sold, not rented, so you can keep them forever.  Second, they work great on a multitude of devices, and the new Kindle for PC lets you search, highlight, and bookmark content in books.
The only problem I've had with Kindle eBooks is that they reflow to fit your screen, so you don't know what the current page number is.  This generally is not a problem with reading books, but makes it difficult to cite books.  If this does become the standard, though, I expect that citation rules will change to accommodate this.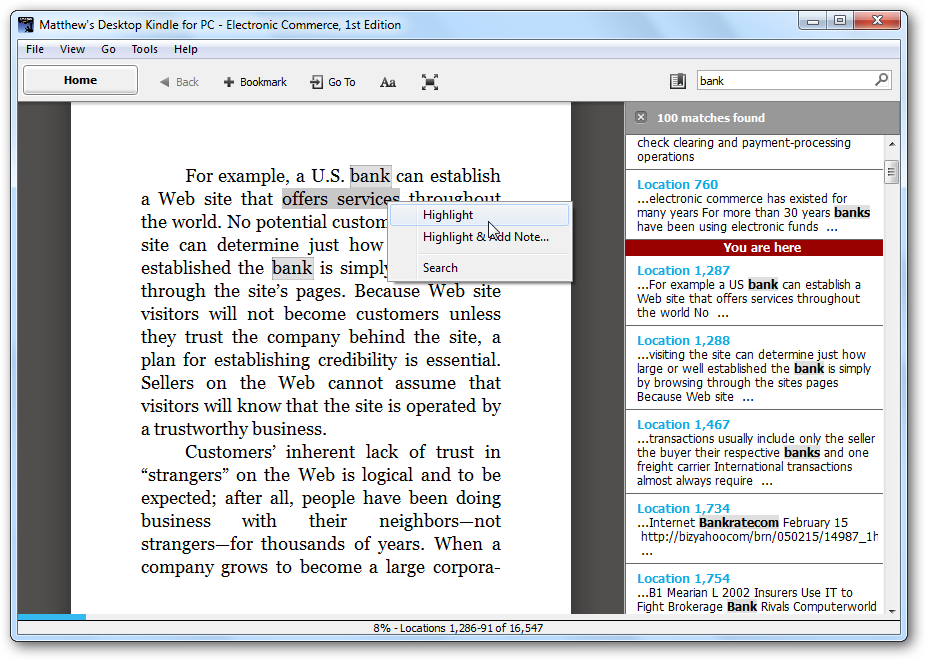 Kindle's best advantage is that you can read your textbooks anywhere.  They'll work on a Kindle device, in the Kindle for PC reader, or your mobile device such as an iPod Touch or iPhone.  Since Kindle books reflow to fit your screen, it'll be easy to read your book no matter where you are, even without an internet connection.  This is one case where having a book locked to a platform doesn't limit you at all!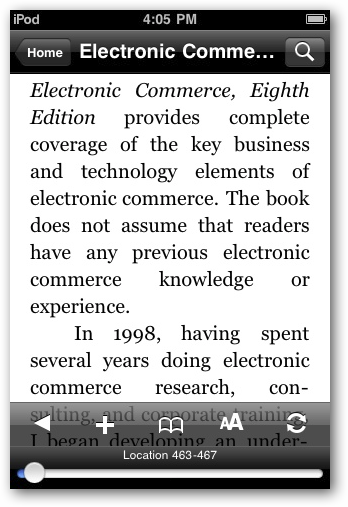 NOOKstudy:
Barnes & Noble has been ramping up their eBook offerings with their NOOK eReader device, and they're also a leader in eTextbooks.  They offer a very nice eBook reader for Mac and PC, the NOOKstudy, which lets you read full-quality textbooks offline on up to 2 computers.  You can search for content in books, highlight and copy text, and even print a portion of the book, depending on publisher restrictions.  Textbooks look very much like they do on CourseSmart, and many popular ones are avilable.
The only problem is, most of their textbooks are rentals just like CourseSmart, so you'll only be able to use your book for 180 days.  Additionally, one very odd thing is that NOOKstudy books do not work on the NOOK device or on B&N's mobile apps, so they're only accessible on a Mac or PC.  For more info about NOOKstudy, check out my review on HowtoGeek.com.
Other Options

Thankfully, in addition to these eTextbook publishers, there are some other options becoming available.  Some publishers are selling eBooks directly in more open formats such as ePub or PDF, or via an online reader.  O'Reilly Press offers almost all of their books in open PDF and ePub formats, while MIT Press offers many of their books via an online flash-based reader.  Many tech, design, and business eBooks are also available through Safari Books Online, a subscription-based online library.  Then, some newer publishers such as Flat World Knowledge are perusing even more adventurous publishing models, offering eBooks that are free to read online but cost to download or get the audio version.  Hopefully we'll se even more innovation in this area over the coming years, and maybe we'll start seeing textbooks that are easier to obtain and cheaper for everyone.
Conclusion
No matter what subject you're studying, the chances that you'll find the textbook you need in digital format is better now than ever before.  Unfortunately, varied formats, platforms, and eBook features make what would be an ideal situation into a confusing mess.  And if there's one eTextbook system to stay away from, it's CourseCompass.  Their eBooks are almost unusable, especially if your internet connection is any bit slow, and it's painful to move through their books and find what you're looking for.  All of the other eTextbook systems are much better, so whenever possible, pick them.
Have you used an eTextbook?  Please share your experiences below!  We're looking forward to the future of eBooks, and hope to see it get easier and cheaper to get the eTextbook you need.
Thoughts? @reply me on Twitter.