Typeform Makes Web Forms Interesting Again
Online forms are predictable—predictably boring and annoying to use. There's dozens of services out there, but they're all so similar, the biggest difference is usually the pricing and plans available. No matter which you choose, your form's going to look rather dated, force desktop users to switch back and forth from mouse to keyboard to fill out the form, and require finger gymnastics to fill out on mobile.
Ok. Perhaps they're not that bad. But they're almost that bad. And even the best seem to have changed precious little since the first web forms were introduced in the '90's.
And then there's Typeform. Launched in beta last year, Typeform takes a decidedly different approach to forms, making them both keyboard and mobile friendly at the same time, and—dare I say—beautiful. Typeforms are something you'll have to experience to understand, so go check out Typeform's demo form first, then come back and finish this review.
Impressed? I thought you would be.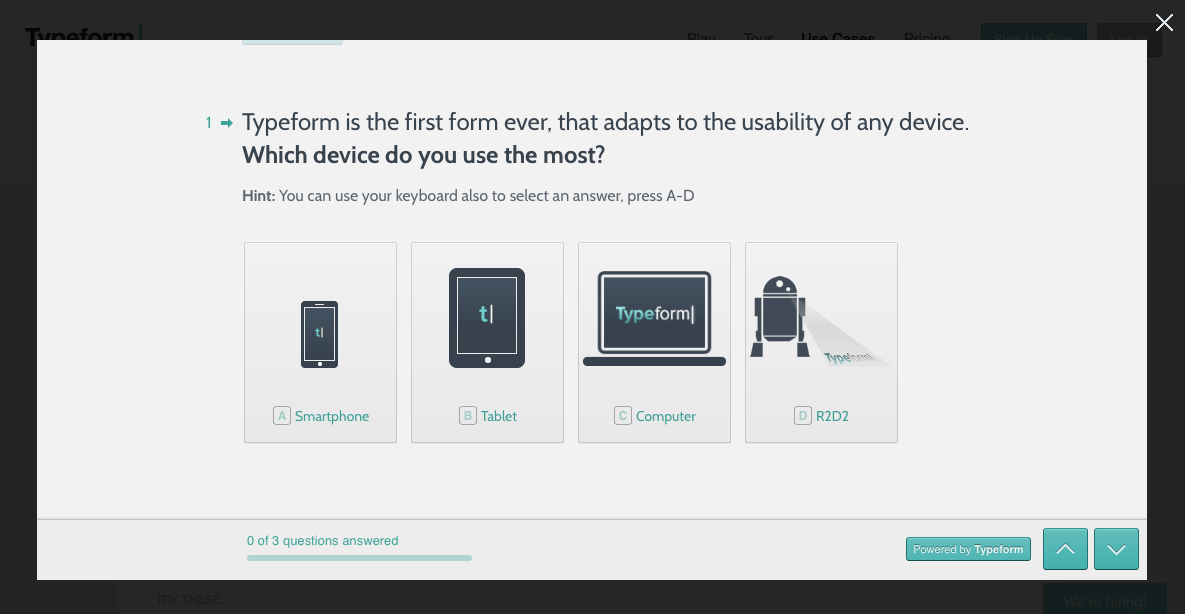 Simple Doesn't Have to Mean Basic
Making a Typeform isn't that much different than making a form in any other online form app. You'll drag-and-drop the sections you want into the form interface, adding in the descriptions and options, and linking parts of the form together with logic to direct your form users to different questions depending on their answers, if you want. The interface for making forms is nice—don't get me wrong—but so is Wufoo's interface.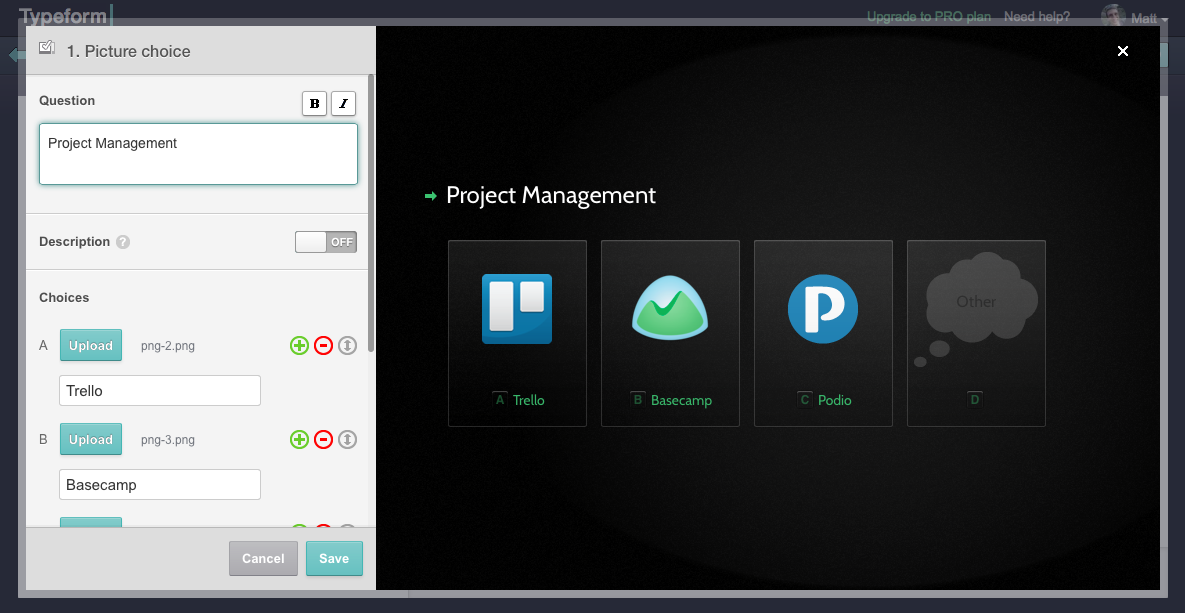 But then dig deeper, and you'll find more to be excited about. There's options to add icons to your form options, making them more like buttons in an app. You can add a background picture to your form, include rich media including full-sized photos and YouTube videos, or customize the landing and exit pages with your company's logo and links to your site. There's detailed font and color options, with pre-made color palettes to pick from and options to save your own palettes to quickly make new forms in your company's style. And the Typeform form interface is so light, your forms will blend into your site's branding just by adding your logo and matching your brand's typography and color choices.
Forms themselves are already very useful, but add in the extra image and customization options, and Typeforms can be used for so many different things—from interactive stories to customer surveys to promo landing pages to get people excited about your next app. The Typeform team even recreated the console from War Games using a Typeform.
All of those different uses work so great with Typeform because of the unique way Typeforms work. As you've already seen in the demo, Typeforms only show one question at once, and already have your curser in the answer filed for you to type in your response without having to click anywhere. If there's multi-choice options, Typeform shows letters beside each option so you can simply tap an option on your keyboard and immediately proceed to the next question. On mobile, the one-question-at-a-time view makes it equally easy to enter your answers without squinting at the options and trying your hardest to tap the tiny text boxes. Multi-choice questions are even more fun on mobile, since they're easy-to-tap buttons that feel perfectly designed for mobile.
Filling out forms on your PC typically is an exercise in frustration as you try to click on tiny bullet points and tab through fields just hoping you don't miss anything. And on mobile, filling out a form online feels like poking your way through a field of land mines—you'll always end up taping the wrong thing. And in one fell swoop, Typeform fixes the biggest frustrations with forms on both.
Taking Your Forms Pro
There's more, too. Typeform has an API so you can access your form data—or even create a form on the fly when the new Build API launches—with a few lines of code, and incorporate Typeform into your internal apps. There's also the metrics and analytics you'd expect, including social network reports that show which network sent your form the most clicks. And as you'd also expect, you can embed Typeforms into your site or have them display in a separate window or a popover on your site, and you can have them email you anytime a form is filled out and export your form data to use in any spreadsheet app.
And then, Typeform's pricing is equally impressive. There's a free tier that lets you make unlimited forms with basic features, and then there's Pro forms that let you add logic jumps and hidden fields to forms, remove Typeform's branding, and soon will let you collect payments via Stripe, use icons from The Noun Project and premium fonts in your forms, and more. You can pay $10/form to create pro forms that'll let you access your form data for a month, or you can pay $20/month for unlimited pro forms. Either option is very rarely priced, but the one-time payment option is especially great if you only occasionally need to make advanced forms.
Forms Worth Getting Excited About
I know it might sound a bit silly to get excited about a web form tool, but Typeform is really, really nice. You'll never need to wait to fill out a Typeform form on your PC, since they're so easy to use on your smartphone, and you'll also be able to fill out Typeform forms quicker than ever on your computer with its keyboard shortcuts. That's what's really so surprising: it's better on mobile and on traditional computers.
Typeform was refreshingly new when it was in beta and I had the opportunity to interview the Typeform team at AppStorm, and now that it's open to the public, its polish and brilliant pricing plans make it the obvious choice if you want a new way to make online forms. It really is that nice.
And I've got something special for Techinch readers: for the next week, you can use the coupon code BLGtechinch when you signup for a Typeform account to get 3 months of Typeform Pro for free. Here's your chance to make some awesome forms—or interactive stories, or something even more amazing—with the greatest new form tool. I'm sure you'll enjoy it.
INSANELY GREAT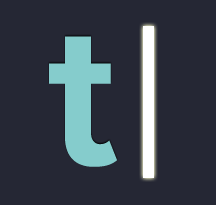 There's web forms, and then there's Typeform. It's the most innovative online form creator yet, and it makes forms that are insanely simple to fill out only using your keyboard, or on a touchscreen.
for Web | Free, $10 per Pro form, $20/mo for Unlimited Pro forms
What do you think about Typeform? Let me know on Twitter.