The Office Saga | A Review of Office for iPad, and What it Means for Microsoft
Hell has indeed frozen over. Microsoft has finally made Office for iPad—the device that in one sheet of aluminum and glass sums up all of their fears about the future of computing. Until now, they've faced the challenge by pretending there was no competition. There's iPads for fun, right along with iPods and Xboxes and everything else (well, maybe not the Xbox. It's only for serious fun. But I digress), and then there's PCs for Real Work™. That's the thing Redmond is good at: work.
And yet, we've all worked on our iPads for the past 4 years just fine. Ok, maybe not just fine, but it's been pretty swell. We've learned to work in new ways, found that lighter apps had enough power for most of our daily tasks, and learned that Office alternatives can actually be pretty nice. Perhaps it's taken a bit of adjustment, but the world has moved on from the productivity solutions we've relied on for the past two decades. The change has been nice, even. The troubles we've had in working on the iPad have been with multitasking and sharing files and such, not with Office. iWork has been fine for that, for the most part, and it even plays nicely with our Microsoft Office files. All's fine in the world of work.
But it's not fine for Redmond, because we're not using Office. We're working, but Office is an afterthought. And that's a huge problem for a company where Office represents over 50% of their profits. The world leaving Windows behind is worrisome enough, but if they leave Office behind as well, Microsoft is dead.
*****
It's surprising today that Microsoft made Office for iPad. Yet, if anything, it should be most surprising that they only just made Office for iPad. The original Microsoft Office ran on the original Macintosh, long before there was a graphical version of Windows, much less Office for Windows. Sure, the Mac version of Office has always lagged behind its Windows counterpart, but it existed at least. It kept people using Office no matter which platform they were using. Even the online challenge of Google Docs was met with light versions of Office Web Apps, though they were hidden in SkyDrive and only recently rebranded as Office Online.
Yet, the iPad seemed too direct a challenge to Microsoft's own platforms. Redmond had dismissed first the iPhone, and now its tablet counterpart was only deemed worthy of derision as a toy, even as the company worked feverishly to build touch versions of Windows. Making Office for iPad would grant it recognition in the business world as a real work device, and by extension make the Post PC world seem all the more real.
No one ever got fired for buying IBM, or so the saying goes in the IT world, and Microsoft nearly earned the same level of respect in business. The iPad and iPhone changed that. No one asked if they could roll out iOS devices—employees just started using them in real work, and they worked. Worked great. Worked so well, companies started rolling them out internally. Microsoft's largest clients weren't asking if Office would run on the iPad, they just found the stuff that did work on the iPad, and ran with it.
At the same time, Microsoft was so intent on keeping the PC king, it didn't even make touch-first copies of Office for its own touch-first OS, Windows 8. When Microsoft's own apps didn't run in the new Modern UI on Windows 8, it's no surprise at all that 3rd party developers largely ignored it as well. Their stubbornness with Office and obsession with fighting the iPad without recognizing it as an equal competitor was killing it from all sides. Windows Phone didn't fare any better. Its bundled copy of Office Mobile includes so few features, its best use is as a marketing statement that screams "See, you need a PC to do real work." Office was the one selling point Microsoft has consistently used to show that Windows devices are better, and yet they were the weakest point on their modern, touch devices.
In the meantime, the rest of the world was getting used to using the rather polished iWork apps even with their more limited features, and finding that Google Docs actually worked for their desktop office needs—or that their office needs weren't quite as complex as they'd originally thought. The lack of Office everywhere gave everyone a chance to sit back and reconsider if they really had to have Office or not. The answer came back as no far more often than Microsoft had ever dared to fear.
Had they continued their original mantra to have Office everywhere, most would have simply continued using it without considering the alternatives. Now, it'll take a lot to win everyone back. There's no option to simply make a light version of Office for iPad and call it a day—it has to be better than iWork, Google Docs, and everything else we've replaced Office with, or it'll get lost in the App Store along with countless other word processors and more.
Microsoft doesn't win today by sheer power of their name. They've got to compete with everyone else on equal footing. Word, Excel, and PowerPoint on iPad have to stand on their own merits.
*****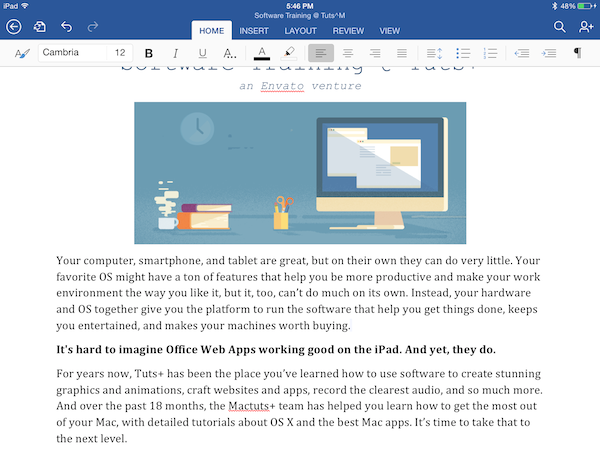 Word is the word processor of record, the app where everything from highschool essays to book drafts are expected to be created. Excel is the spreadsheet app that, for better or worse, defines spreadsheets. And PowerPoint is the presentations app who's very name is used as a generic word for presentations. To stand on their own, these apps each have to at least enough better than the existing alternatives to reclaim the name as the de facto standard apps for each of these categories on the iPad.
And, of all surprising things, they do. Word for iPad opened a 350 page book draft PDF in under half a minute, complete with sidebars, images, multi-column text on some sections, footers, and more. Scrolling through the document was silky-smooth, and searching for text was nearly as quick as you'd expect on a computer. Pages, with the same document on the same iPad 4, took several minutes attempting to open it before crashing. On a second attempt, it opened it, but with formatting errors and terribly slow scrolling.
That's an extreme example, of course. Most of the documents most of us use on a daily basis aren't that long. But Word for iPad—despite its more limited feature set than Word on a Mac or PC—still includes tools to easily change your page size and margins, more advanced numbering and outline tools, multi-column and text box support, along with text wrapping around images and more. The ribbon is there, making it familiar, and yet it's slimmed down to fit nicely on the iPad's screen. There's even sharing and live co-editing tools to work on documents with others. Word for iPad is almost surprisingly polished; it's as smooth and slick as any other top-notch indie app on the iPad. It's every bit as nice as Pages for iPad, and then some—along with, apparently, a lot more power.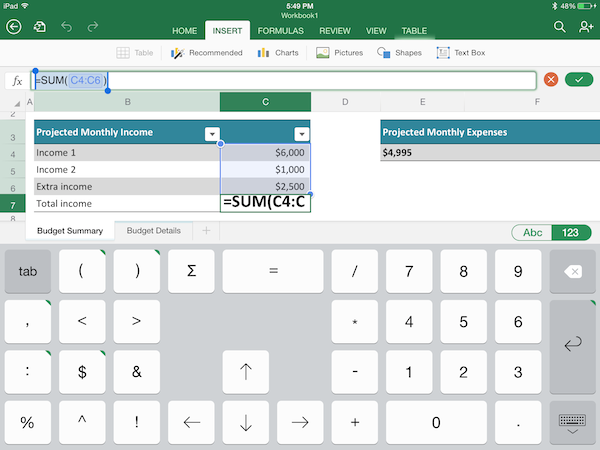 The same trend continues with Excel for iPad, which is more limited than Excel on a Mac or PC but far more powerful than Numbers for iPad. You can reference data in other sheets easily, add charts (even sparklines) in a tap, and enter data fast with a specialized numpad keyboard. You'll miss features like PivotTables from the PC, but then, you can at least view PivotTables in Excel for iPad and edit the underlying data, even if you can't create them yourself on the iPad just yet.
Keynote, iWork's counterpart to PowerPoint, has always been the more polished of the two, at least if you want slick animations. And yet, surprise of all surprises, PowerPoint for iPad packs in enough snazzy slide transitions that playback silky-smooth to make Keynote devotees pause. It's the weakest of the Office for iPad apps, in my opinion, with too few features to even cover all of Keynote's features (there's no object animation, for one), but it's at least not just a weak attempt to bring basic slideshow to the iPad. It's an actually useful presentations app that could be 100% useful on its own.
Perhaps that's the best thing of the full iPad Office suite. These aren't light apps that feel like they're only meant as companions to the PC suite. Just like iWork, they feel like they've been designed to be used productively 100% on their own—and at the same time, they're equally useful in tandem with their Mac, PC, and web app counterparts. In an even nicer extra that's a surprise bonus of being tied to Office 365 accounts, you can sign out of the Office apps and let others sign into their own accounts—the best option for sharing an iPad with someone else for productivity apps I've seen yet outside of Dropbox syncing (and that'd be a terrible pain to sign in and out of in every app).
*****
But then, there's the pricing. Office Online is perhaps the best deal Microsoft's ever offered: it's 100% free. Microsoft's Office apps for phones (iOS, Android, and Windows Phone) are all free, but they're also all terrible—seriously, even on Windows Phone, you can do more in WordPad on a PC than you can in Word on mobile. Then, on Macs and PCs, Office typically comes in a suite that retails for around $150+, depending on which apps you need. Or, more recently, you can subscribe to the whole suite via Office 365 for ~$9/month.
Full powered apps, full price. Lite apps, free.
Office for iPad decidedly falls on the former side of that equation—and thankfully so. As such, it costs, and the only way to buy it is with an Office 365 subscription. The apps themselves are free and individual in the App Store; you can download just Word, or just Excel, or all the apsp if you want. But just with that download, all you can do is view your files. To unlock editing, you'll need an Office 365 subscription, one you already have or one you purchase in the apps via a $99/year in-app purchase.
That essentially means Office for iPad costs $99/year, and that's getting a lot of attention. But then, that $99/year also lets you run Office on up to 5 Macs and PCs (and you can even share that subscription with others in your household or, ahem, quite possibly with friends), and gives you extra free OneDrive storage and 60 minutes/month of Skype calling. That's not so bad. And at any rate, if you actually need to use Office apps for work, paying a couple dollars more than a Netflix subscription isn't worth worrying about.
That is, unless you don't need Office. And here's the real dilemma: you can use Office Online—real Microsoft Office, albeit with fewer features than the iPad apps offer—for free in Safari on your iPad, and it actually works very well with touch. Or, you can use Apple's iWork, which again is polished and nice, with nearly as many features as Office for iPad—and it's free with a new iPad as well. There's Google Docs as well, though it has enough issues on mobile to not make it a solid contender here with those other great free choices.
Therein is Microsoft's challenge: making Office not just good, but great. So great, in fact, that we will want to use it, enough that it'll give us $9 worth of value in our work and lives each month beyond what we already get for free. Today's Office for iPad is good enough to directly take on the existing free alternates on the iPad, and then some. That's exciting enough. After Microsoft's feeble attempts to bring Office to phones, I'd all but written off Office for iPad long before it was released. No other 3rd party developer has even begun to compete directly with iWork for iPad, and I really didn't think Microsoft could pull that off either. And yet they did.
Now the challenge remains to fill out these apps feature-set and make them 100% competitive with Office on the Mac and PC. That would turn heads. We already have great Office apps that have basic features and are slick, and Office has amply taken those on. The interesting part of the challenge is the rest of the journey.
Will Microsoft have the courage to let Office for iPad compete directly with Office for PC? My $99 this year is betting they will.
Links:
Thoughts? @reply me on Twitter.