Goodbye Google Reader. Hello Fever!
Google's hit an odd new trend. After years of giving us new free services, one after the other, it's now releasing $1,500 glasses and $1,300 laptops that can only run a browser. And it's taking away some of the free services we've grown dependent on.
Like Google Reader. The free RSS service from Google practically pushed every other RSS sync app out of the market, and while it may have not been the most advanced RSS reading app, it became the de facto RSS app and sync engine. Most native RSS readers, like my favorite, Reeder, relied on Google Reader's backend to keep up with RSS subscriptions. It just worked, and was free, so it became the standard. Why make an RSS reader app when Google has a free one that everyone already uses?
Then last week, Google decided that Reader wasn't that important, and announced it was going away in July. Suddenly, the market for RSS readers is wide-open again, and most of us have had to quickly decide on alternatives. I wrote up tutorial for getting your data out of Google Reader, and rounded up some of the best alternate RSS reader apps online today for Web.AppStorm; be sure to check that article out if you haven't read it already.
For me, though, there was only one RSS reader app I wanted to switch to: Fever. Shaun Inman's self-hosted RSS reader had caught my eyes years back, and I'd always meant to try it out … but Google Reader was so simple to just stick with that I'd never given it the effort. Now, I had no excuse not to try it.
The Fever
Fever is to Google Reader what WordPress.org is to WordPress.com: a self-hosted app that does much of the same thing as the free, online version. It's an app you'll download and run on your own server (or shared hosting account), and then will need to maintain on your own, just like programs you install on your computer. Google Reader gave us a simple service we could all use online, just like WordPress.com lets people make blogs online for free. But with Google Reader getting shut down, Fever becomes an even more attractive option, one that you might be interested in moving to even if you didn't feel yourself itching for more control over your feed reader (the biggest reason you'd want, say, to upgrade from a WordPress.com blog to self-hosted WordPress.org).
Oh, and Fever gives you more than Google Reader did, too. In addition to letting you read each of your RSS feeds in the order they've been updated — and yes, share them with your networks or save them to Instapaper if you want — it also gives you a list of the top news articles detected automatically from your feeds. It's like your own Techmeme or Google News, built from the sites you actually care about. But we'll talk about that more later.
Sparking the Fire
The only thing is, installing an app on your own server is usually a tad tricker than just installing Microsoft Office on your computer. WordPress has a so-called "famous 5 minute install", but is actually fairly complex to get setup if you've never hosted your own site before.
Fever, though, isn't tricky at all to get setup. You'll just download the Fever Server Compatibility Suite, which contains just 3 files, then upload them to your server via FTP. This should be simple enough to do if you've ever self-hosted your own site. Then, you'll visit the boot.php file on your site that you just uploaded, add info for a new MySQL database (again, something that you should find simple if you've ever hosted your own site), and purchase a copy of Fever via PayPal (yes, it costs $30. If you use it for 2.5 years, that's less than $1/month).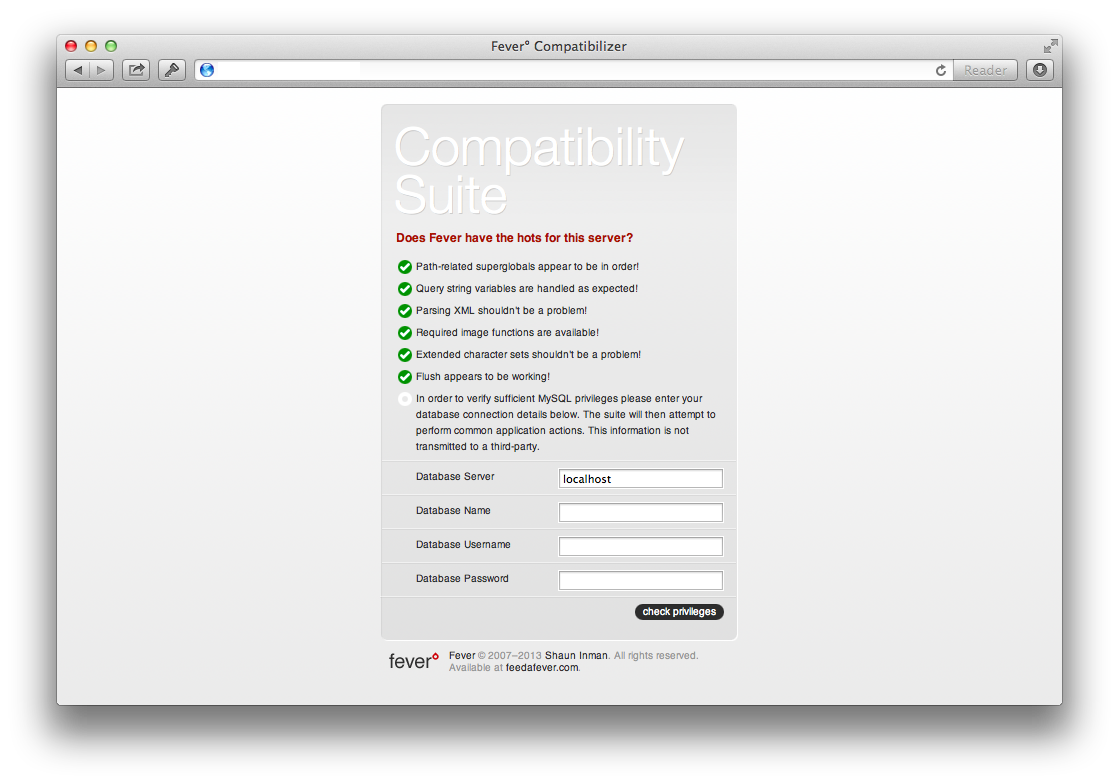 You'll then need to add your activation key to your own Fever install, and create an account to login and check your feeds. And with that, you're done. Really, no more files to upload or anything else. It's really, really simple to setup, so much so that I was surprised.
Fanning the Flames
Once you've got a Fever account setup on your own Fever install, you'll never have to worry again about losing your RSS feeds. Now, all you need to do is subscribe to your favorite sites. Fever makes this easy, giving you a bookmarklet to quickly subscribe to sites you visit with a simple click (or keyboard shortcut — Safari lets you press CMD+number for the bookmarklet you want, which is how I use them by default). Or, you can import your OPML file from Google Reader, following the directions on my Web.AppStorm post, or import feeds from any other RSS app you use.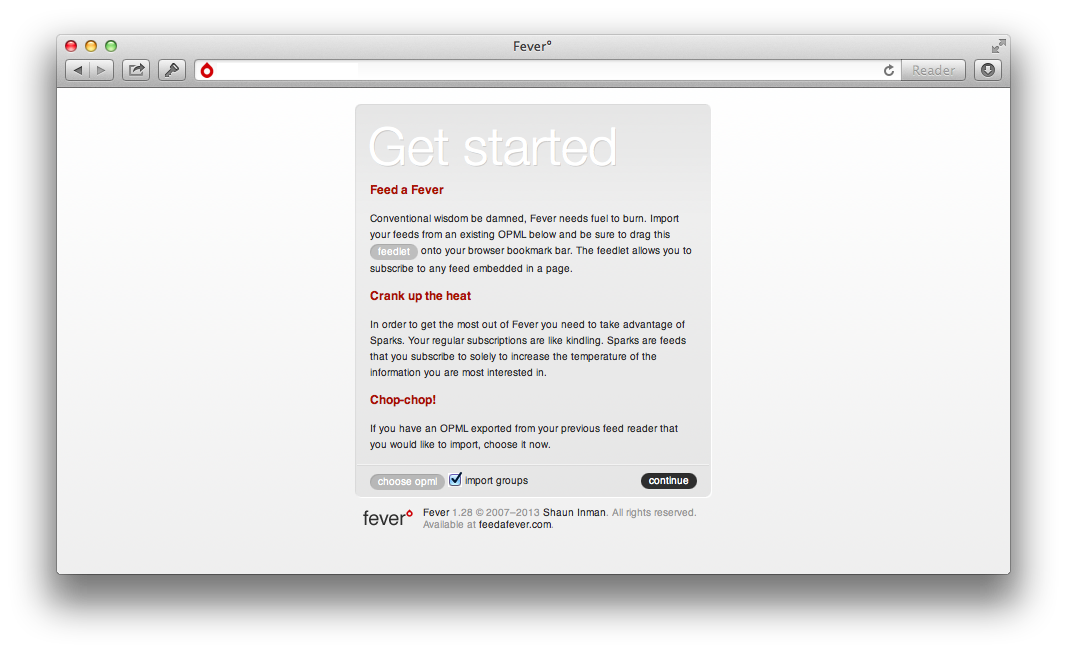 And with that, you're done. Fever will check each of your RSS feeds, which might take a minute or so, depending on how many feeds you have and how fast your server is. After that, though, you can read through your RSS feeds in newest or oldest first (choose your preference in settings), and can jump through them quickly using familiar Google Reader-style keyboard shortcuts. You can even share articles or save them to Instapaper using the built-in sharing options, which also lets you add your own services for sharing if you'd like to. There's also a built-in saved articles option, which lets you mark articles as favorite so they'll be kept forever, and a search tool to help you find older articles (and you can set how long you want old feed entries kept — a nice option if you want to save space and keep less, or if you want to built an exhaustive RSS feed history and could care less about space). That's everything you could want if you're wanting a service to replace Google Reader.
Then, though, there's the Hot feature that makes Fever Fever. It goes through all of your feeds and finds the most popular links, then surfaces them for you with temperatures to show how "hot" they are. You can even add new RSS feeds to your "Sparks" section to add more data points for finding hot articles; these RSS feeds won't show up in your unread list, since they're likely sites that publish way too much to keep up with everything they say (think CNN or Techcrunch), but they'll help Fever find the hottest things you need to know. So now, you've got your own customized Google News replacement along with your own, self-hosted Google Reader.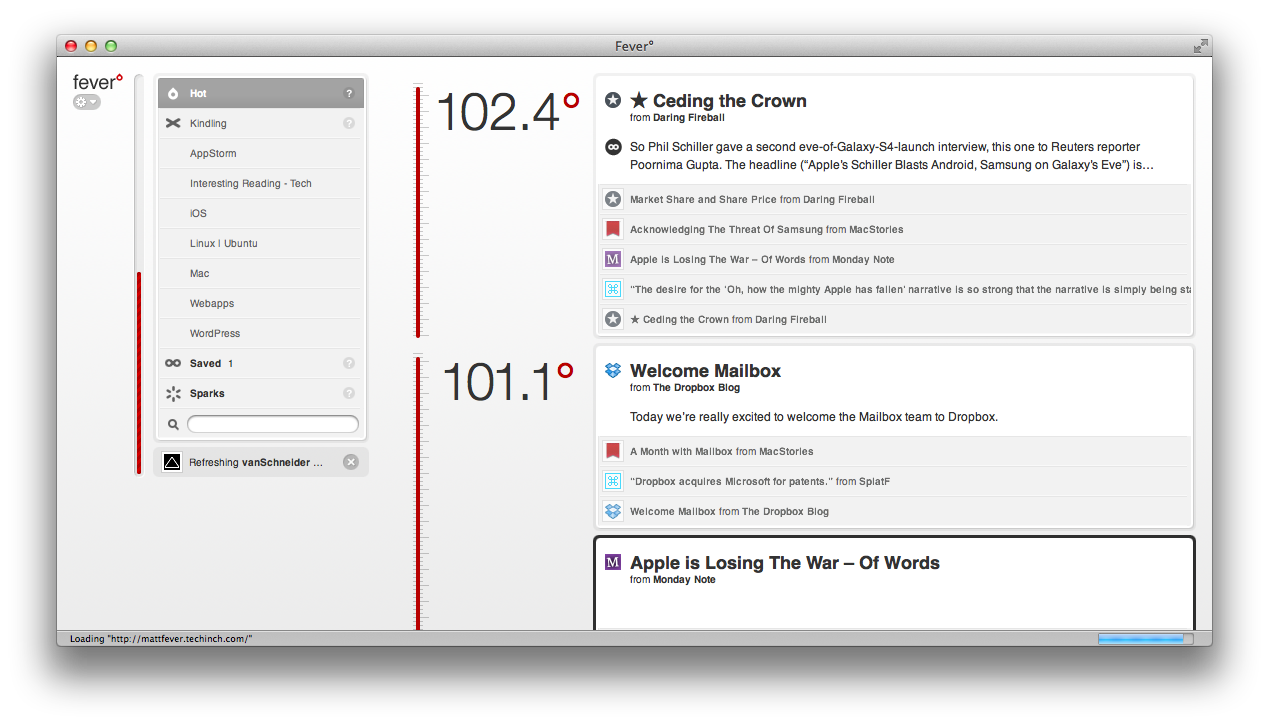 Keep the Fire Going
Fever doesn't have native apps of its own, but there's plenty of ways to run it anywhere you want since it's a web app. You can, of course, just visit it in the browser anytime, and it even has a mobile version (sadly, though, one that's not retina display optimized) built-in for reading on the go. On your Mac, you can also use Fever in Fluid for a more native feel, with an unread count on your Dock. In Windows, you could do the same — to a degree — by saving the webpage as an app in Chrome.
Then, on the iPhone, my favorite Google Reader app — Reeder — also works with Fever (and I hope the Mac version gets Fever support sometime soon). You'll just need to login with your account, and you'll get the same experience you're used to if you already used Reeder, with the addition of the Hot section. There's also another iPhone app, Sunstroke, that's gotten praise from others I know. If you're using Android, there's the free app Meltdown that syncs with Fever, and you can get it from the Play Store or Amazon.
Oh, and on your server? There's not much you'll need to do. There's the option to check for and install updates to Fever built-in to the preferences menu, and pretty much everything else should just work. At least it has for me so far.
Goodbye, Reader!
With that, I've fully switched away from Google Reader. I only wish I'd done it sooner. It's nice to run your own services, and when they end up as easy to use as Fever did, you only feel dumb for not switching sooner.
Whether you switch to Fever or something else, be sure to hurry and do it. You've only got until July 1st. Also, don't forget to subscribe to our Techinch RSS feed to keep up with everything published here!
Thoughts? @reply me on Twitter.