Chromecast — The Chrome OS Device That Finally Makes Sense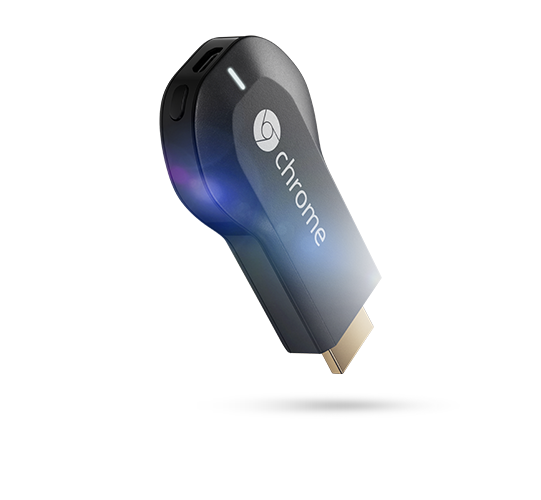 It's not too uncommon for me to spend a dollar or ten on an impulse app or eBook purchase. But hardware's a totally different matter. I planned my MacBook purchase months in advance, saved and thought and debated before finally buying an iPhone, and maxed out my backup drive (and then managed to erase half of the stuff on it) before I bought another 1Tb external USB3 drive. The [Nifty MiniDrive] was nearly an impulse buy, but at $30 it was cheap enough to take a chance on.
Today, another device convinced me to buy it only an hour after first hearing about it: Google's [Chromecast]. It's a $35 HDMI stick — practically the same as the USB flash drives and 3G connectors we're used to — powered by Chrome OS. Just connect it to your TV, where it'll likely be 100% hidden (assuming your TV can power it over HDMI; otherwise, you'll need a power cable. Still, not bad), and open Chrome on any of your devices or a supported app (YouTube, Netflix, Google Play on an Android device, and a handful of others coming soon). Find what you want to watch, then tap the button to "cast" it to your TV. And anything online will work, or at least it's supposed to, including any site with HTML5 or Flash video. Next thing you know, your online video will be playing on your TV via the Chromecast, in full HD.
It's obviously going to be compared most to the Apple TV, which can stream videos from a number of online services, play iTunes media, and mirror your entire Mac or iOS device's screen via AirPlay. But it's 3 times the cost of the Chromecast, and is yet another set-top box. If browser-based videos make up the majority of your viewing, then the Chromecast is perfect. And I happen to bet there will have to be ways to get it to play local media via a personal server — that's something I shall have to try out. But if you're already using Netflix+YouTube for your streaming entertainment, the Chromecast would be perfect — and it comes with 3 months of free Netflix streaming, making it effectively $24 cheaper. And somehow, it would only make sense now if Google could figure out a way to bring Google Play videos to iOS (Update: turns out they already have. Buy a movie/TV show in Google Play, and you can open it in the iOS YouTube app under the Account->Purchases tab. Thanks for confirming, @failgunner).
But hey, at $35, it's cheap enough to come up with extra use cases. Imagine this: you can carry a Chromecast in your laptop bag, and when you give a presentation just have the media team stick it in the projector, and you can give a full projected presentations via Google Docs (or, hey, iWord for iCloud, or even the Powerpoint Web App). Or, imagine if Google brings full-device mirroring to the Chromecast for Macs and PCs — that'd make it the perfect way to make any TV into a wireless display.
I'll still want to get an Apple TV sometime if only for full-screen AirPlay Mirroring — and not just the Chromecast's Chrome Tab mirroring — but I happen to think that the Chromecast will cover most of my streaming media needs. And that's really cool. I can't wait to get mine.
Hey Google, good job. You just sold this Apple fan a device.
*****
Now, if only the Ubuntu Edge was coming sooner than next year, I'd be sorely tempted to buy another non-Apple device. What is happening?!?
Thoughts? @reply me on Twitter.