Find Suggested Words in OS X With CMD+.
Monday, May 21st, 2012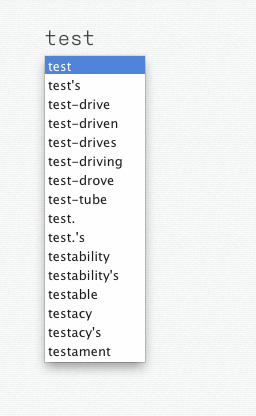 It's always nice to stumble across a new trick, which is what I just did a few moments ago. I was posting a tweet in Wren, and was typing a period then CMD+Enter to send the tweet. Somehow instead, I hit CMD+. and got a small popover showing suggested words that started with the word I'd already typed. Turns out, that's a standard OS X keyboard shortcut that works in most apps (though, interestingly, not in most browsers since they use CMD+. to stop loading a page).
So, if you're trying to type a word and only know the first part of the word, this little trick just might come to your rescue. Start typing the word, then tap CMD+. and see if the word you were looking for is in that list. You can browse through the suggested words using your arrows, and enter the word selected by hitting Tab, all without leaving your keyboard.
Yet another reason to love the OS X built in Dictionary and spelling/grammar check!